DFARS (Defense Acquisition Regulations Supplement)

DFARS

(Defense

Acquisition

Regulations

Supplement)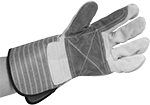 C
With a canvas backing and leather palm, these gloves provide the lightweight breathability of fabric gloves with the wear resistance of leather.
Choose cowhide gloves for a balance of durability and comfort.
Gloves with open cuffs are more convenient to put on and take off than other gloves.
Style C gloves have two layers of leather on the palm, thumb, and index finger for added protection.
Style

Lg.

Cuff
Style
Color
Features
Size

1-11

12-Up

Cowhide Leather

C
12"
Open
Off-White/Green
Canvas Backing; Reinforced Palm, Thumb, and Index Finger
L
00000000
00000
00000