Leather Work Gloves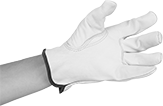 A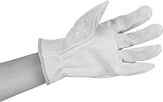 B

D
The all-leather design offers durability and wear resistance.
Cowhide gloves balance durability and comfort.
Pigskin gloves won't stiffen when wet.
Style D extend just above the elbow for added arm coverage. They have a nylon mesh strip midway down the arm, which allows air to circulate comfortably while you work. An elastic cuff keeps them in place.
Size
Glove
Size
S
7
M
8
L
9
XL
10
2XL
11
Style

Lg.

Cuff
Style
Color
Gender
Features
Choose a Size

1-11

12-Up

Gloves

Cowhide Leather

A
8

3/4

"
Open
Off-White
Men's
__
000000
00000
00000

Pigskin Leather

B
10"
Open
Off-White
Men's
__
000000
00000
00000

Gloves with Sleeve

Cowhide Leather and

Cotton/Nylon

Fabric Blend

D
23"
Elastic
Off-White
Men's
2

1/2

" Wide Nylon Mesh Strip
000000
00000
00000
Light Duty Work Gloves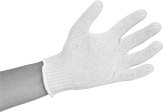 Cotton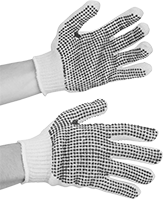 Cotton/Polyester
with Full Dot Grip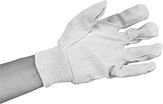 Cotton Canvas and
Cotton/Polyester
Canvas Blend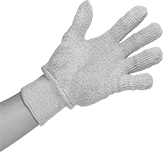 Comfortable and flexible, these fabric gloves are good for parts handling, maintenance, fabrication, and other general purpose applications.
Cotton and cotton/polyester blend gloves are as breathable as a T-shirt and can be comfortably worn for long periods of time.
Cotton canvas and cotton/polyester canvas blend gloves have strong seams for durability.
Cotton terry/polyester blend gloves absorb moisture and have an outer layer that dissipates heat.
Gloves with grip are textured on one or both sides that provides a secure grip. Full grip gloves are ambidextrous and can be worn on either hand for convenience or to extend use when the grip on one side wears down.
Cotton
Weight
Texture
Coverage
Pattern

Lg.

Color
Choose
a Size

1-11

12-Up

Cotton Fabric

Medium
__
__
__
9

1/2

"
Off-White
000000
00000
00000

Cotton/Polyester

Fabric Blend with PVC Plastic Grip

Medium
Textured
Full
Dot
9

1/4

"
Off-White
000000
000
000

Cotton Canvas Fabric

Light
__
__
__
10"
Off-White
L
000000
0000
0000
Heavy
__
__
__
10

1/2

"
Off-White
L
000000
0000
0000

Cotton

Terry/Polyester

Fabric Blend

Heavy
__
__
__
11"
Off-White
L
000000
0000
0000

Cotton/Polyester

Canvas Fabric Blend

Medium
__
__
__
10"
Off-White
L
000000
0000
0000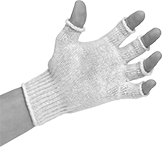 Use these gloves to cover your hands while leaving your fingertips open to grip objects.
Cotton/polyester blend gloves are comfortable and flexible. They are good for light duty jobs.
Finger Cots

Handle small items when dexterity is essential and full hand coverage isn't needed.
Cotton cots offer better dexterity and tactility than leather cots.
Finger Cot
Coverage
Color
Size

Pkg.




Qty.

Pkg.

Cotton Fabric

Full
Off-White
One Size
20
0000000
00000
Sleeves

Cotton
Protect your arm from stains, sparks, and abrasions. Use these sleeves alone or with gloves.
Cotton sleeves are comfortable, breathable, and form fitting. Cut 12-yd. long sleeves to the length you need.

Nomex Aramid
Use these sleeves alone or with gloves to protect your arms from heat.
Nomex aramid sleeves are breathable and cool down quickly after removal from a hot surface. They have knit cuffs for a secure fit.
Lg.

Cuff
Style
Color

Max.




Temp.,

°F

For Heat
Exposure Type
Size
Pair

Nomex Aramid Fabric

23"
Knit
Off-White
1300°
Direct
One Size
000000
000000
Bags for
Electrical-Protection

Gloves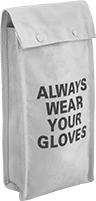 Prevent damage to gloves in storage. Attach the bag to your belt with the quick-release snap hook. Grommets on the bottom provide ventilation and drainage.
Leather-Palm

Cold-Protection

Gloves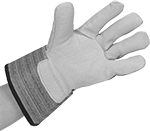 Open Cuff
A leather palm provides abrasion resistance. Use these gloves to safeguard hands from cold objects as well as cold weather.
Pigskin gloves won't stiffen in wet or oily environments.
Gloves with open cuffs are more convenient to put on and take off than other gloves.
Two-Piece

Glove Box Gloves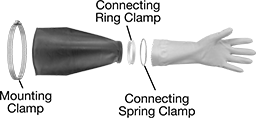 (Mounting Clamp Not Included)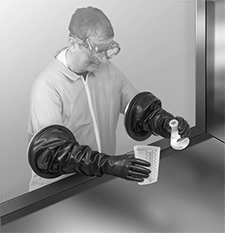 For applications that require frequent glove changes, the sleeves stay connected to the glove box so you can quickly change the size or type of glove being used. Use these gloves in glove boxes to safely handle hazardous substances or avoid contaminating sensitive materials. They fit 8" diameter glove box access holes. Attach gloves to sleeves using the included sleeve-to-glove connecting spring clamp and sleeve-to-glove connecting ring clamp. Attach sleeves to a glove box using glove box mounting clamps (sold separately).
Nitrile gloves have good resistance to punctures, solvents, oils, and greases.