About
Cut-Resistant

Gloves
Coated
Cut-Protection

Gloves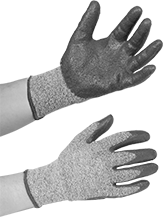 A
The coating on these gloves provides extra protection and wear resistance. All meet the ANSI/ISEA 105 standard, which designates levels of cut resistance based on the force needed to cut through the material of the glove using a razor blade.
Kevlar aramid gloves absorb moisture.
Palm-coated gloves have an uncoated back side that makes the gloves more comfortable and breathable. Latex-coated gloves are water resistant.
Style A provide cut protection without hindering dexterity. They are textured to provide added grip. For a secure fit, they have a knit cuff.