Vapor-

and

Acid-Resistant

Gloves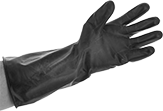 Smooth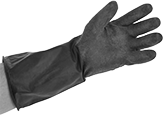 Textured
More impermeable to gas and vapors than other chemical-resistant gloves we carry, these resist esters, ketones (such as acetone), highly corrosive acids, and other hazardous substances.
Textured gloves provide a better grip than smooth gloves.
Acid-

and

Heat-Protection

Gloves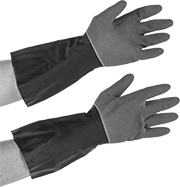 The lining withstands intermittent heat, while the outer layer of material acts as a barrier to chemicals and solvents. All of these gloves are textured on the fingers and palm for added grip.