Disposable Sleeves

Use these sleeves alone or with gloves to protect your arms.
Tychem 2000 (formerly known as Tychem QC) sleeves are polyethylene coated for protection from inorganic acids and bases.
Material

Thick.,


mil

Lg.

Color
Size
Contains
Latex

Pkg.

Qty.

Pkg.

Chemical-Resistant

Sleeves

Tychem 2000 Fabric
11
18"
Yellow
One Size
No
5 Pairs
0000000
000000
Oil-

and

Acid-Resistant

Gloves
Nitrile
Protect your hands from oil, acids, and scrapes while you're working.
Nitrile gloves withstand deterioration from petroleum products and solvents such as alcohol.
Textured gloves provide a better grip than smooth gloves.
Gloves without a lining offer the best dexterity.
Size
Glove
Size
S
7
M
8
L
9
XL
10
2XL
11
Texture

Thick.,


mil

Lg.

Color
For Use With
Specifications Met
Choose a Size

1-11

12-Up

Nitrile Rubber

Textured
11
13"
Green
Gasoline, Hydraulic Fluid, Hydrochloric Acid, Hydrogen Peroxide, Isopropyl Alcohol, Mineral Spirits, Sodium Hydroxide, Turpentine
FDA Compliant 21 CFR 177.2600

0000000
00000
00000
Clean Room Gloves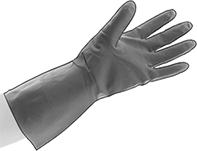 B
Cleaned and bagged in environments with low levels of particulates, these powder-free, unlined gloves won't contaminate your work area. They're suitable for use in clean rooms rated to both Federal Standard and ISO classes. In both systems, clean rooms with lower class ratings have fewer contaminants.
Chemical-resistant gloves protect against incidental chemical contact such as spills and splashes.
Nitrile gloves are a good alternative for those concerned about latex allergies.
Textured gloves provide a better grip than smooth gloves.
Size
Glove
Size
S
7
M
8
L
9
XL
10
2XL
11