A slight push or pull on the lever opens your door. Levers are UL Listed for use with three-hour fire doors.
Select a lever with the correct backset distance (the distance from the door's edge to the center of the lever's mounting hole) for your door. Latch bolt projection is the length the latch bolt extends from the door's edge.
For technical drawings and 3-D models, click on a part number.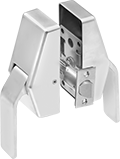 Backset Distance
For

Max.


Door


Thick.

Finish
Material
Latch
Bolt
Projection

Ht.

Wd.

Lg.

Wd.

Projection
For Door
Swing
Direction
Mounting
Hardware
Included
Each
1

3/4

"
Dull Chrome
Zinc

5/8

"
5

1/2

"
2

9/16

"
4

1/2

"
1

1/2

"
2

5/8

"
Left, Right
Yes
0000000
0000000
1

3/4

"
Dull Stainless Steel
Stainless Steel

5/8

"
5

1/2

"
2

9/16

"
4

1/2

"
1

1/2

"
2

5/8

"
Left, Right
Yes
0000000
000000
1

3/4

"
Dull Chrome
Zinc

5/8

"
5

1/2

"
2

9/16

"
4

1/2

"
1

1/2

"
2

5/8

"
Left, Right
Yes
0000000
000000
1

3/4

"
Dull Stainless Steel
Stainless Steel

5/8

"
5

1/2

"
2

9/16

"
4

1/2

"
1

1/2

"
2

5/8

"
Left, Right
Yes
0000000
000000