Granite
Flat-Surface

Plates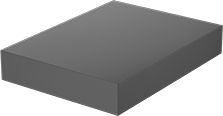 Rectangular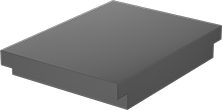 Rectangular with Two Ledges
Corrosion resistant and nonmagnetic, these smooth plates also resist warping and abrasion. The extremely tight flatness tolerances provide an accurate reference plane for layout and inspection work.
Plates with two ledges are used to hold fixtures and instruments with clamps.
Laboratory Grade AA plates are for precision quality control work.
Inspection Grade A plates are for general quality control work.
Toolroom Grade B plates are for checking work throughout a shop.
Also Available: Other plate sizes. Please order 2245A999 and specify grade, length, width, thickness, and with or without ledges.
For technical drawings and 3-D models, click on a part number.
Lg.

Wd.

Ht.

Flatness
Tolerance
Color
Specifications
Met
Certification
Specifications
Met

Wt.,




lbs.

Each
Each

Rectangular

Laboratory Grade AA

12"
8"
2"
0.00005"
Black
ASME B89.3.7, Fed. Spec. GGG-P-463C, ISO 10012
Certificate of Accuracy Traceable to NIST
ASME B89.3.7, Fed. Spec. GGG-P-463C, ISO 10012
28
0000000
0000000
000000
00
18"
12"
4"
0.00005"
Black
ASME B89.3.7, Fed. Spec. GGG-P-463C, ISO 10012
Certificate of Accuracy Traceable to NIST
ASME B89.3.7, Fed. Spec. GGG-P-463C, ISO 10012
93
0000000
000000
00000000
000000
24"
18"
4"
0.000075"
Black
ASME B89.3.7, Fed. Spec. GGG-P-463C, ISO 10012
Certificate of Accuracy Traceable to NIST
ASME B89.3.7, Fed. Spec. GGG-P-463C, ISO 10012
185
0000000
000000
00000000
000000
36"
24"
6"
0.0001"
Black
ASME B89.3.7, Fed. Spec. GGG-P-463C, ISO 10012
Certificate of Accuracy Traceable to NIST
ASME B89.3.7, Fed. Spec. GGG-P-463C, ISO 10012
601
0000000
00000000
00000000
000000
48"
36"
6"
0.0002"
Black
ASME B89.3.7, Fed. Spec. GGG-P-463C, ISO 10012
Certificate of Accuracy Traceable to NIST
ASME B89.3.7, Fed. Spec. GGG-P-463C, ISO 10012
1,203
0000000
00000000
00000000
000000
12"
8"
2"
0.0001"
Black
ASME B89.3.7, Fed. Spec. GGG-P-463C, ISO 10012
Certificate of Accuracy Traceable to NIST
ASME B89.3.7, Fed. Spec. GGG-P-463C, ISO 10012
28
0000000
000000
000000
00
18"
12"
4"
0.0001"
Black
ASME B89.3.7, Fed. Spec. GGG-P-463C, ISO 10012
Certificate of Accuracy Traceable to NIST
ASME B89.3.7, Fed. Spec. GGG-P-463C, ISO 10012
93
0000000
000000
00000000
00000
24"
18"
4"
0.00015"
Black
ASME B89.3.7, Fed. Spec. GGG-P-463C, ISO 10012
Certificate of Accuracy Traceable to NIST
ASME B89.3.7, Fed. Spec. GGG-P-463C, ISO 10012
185
0000000
000000
00000000
000000
36"
24"
6"
0.0002"
Black
ASME B89.3.7, Fed. Spec. GGG-P-463C, ISO 10012
Certificate of Accuracy Traceable to NIST
ASME B89.3.7, Fed. Spec. GGG-P-463C, ISO 10012
555
0000000
00000000
00000000
000000
48"
36"
6"
0.0004"
Black
ASME B89.3.7, Fed. Spec. GGG-P-463C, ISO 10012
Certificate of Accuracy Traceable to NIST
ASME B89.3.7, Fed. Spec. GGG-P-463C, ISO 10012
1,110
0000000
00000000
00000000
000000
12"
8"
2"
0.0002"
Black
ASME B89.3.7, Fed. Spec. GGG-P-463C, ISO 10012
Certificate of Accuracy Traceable to NIST
ASME B89.3.7, Fed. Spec. GGG-P-463C, ISO 10012
21
0000000
000000
000000
00
18"
12"
3"
0.0002"
Black
ASME B89.3.7, Fed. Spec. GGG-P-463C, ISO 10012
Certificate of Accuracy Traceable to NIST
ASME B89.3.7, Fed. Spec. GGG-P-463C, ISO 10012
70
0000000
000000
00000000
00000
24"
18"
3"
0.0003"
Black
ASME B89.3.7, Fed. Spec. GGG-P-463C, ISO 10012
Certificate of Accuracy Traceable to NIST
ASME B89.3.7, Fed. Spec. GGG-P-463C, ISO 10012
139
0000000
000000
00000000
000000
36"
24"
4"
0.0004"
Black
ASME B89.3.7, Fed. Spec. GGG-P-463C, ISO 10012
Certificate of Accuracy Traceable to NIST
ASME B89.3.7, Fed. Spec. GGG-P-463C, ISO 10012
370
0000000
000000
00000000
000000
48"
36"
6"
0.0008"
Black
ASME B89.3.7, Fed. Spec. GGG-P-463C, ISO 10012
Certificate of Accuracy Traceable to NIST
ASME B89.3.7, Fed. Spec. GGG-P-463C, ISO 10012
1,203
0000000
00000000
00000000
000000

Rectangular with Two Ledges

Laboratory Grade AA

18"
12"
4"
0.00005"
Black
ASME B89.3.7, Fed. Spec. GGG-P-463C, ISO 10012
Certificate of Accuracy Traceable to NIST
ASME B89.3.7, Fed. Spec. GGG-P-463C, ISO 10012
83
0000000
000000
00000000
00000
24"
18"
4"
0.000075"
Black
ASME B89.3.7, Fed. Spec. GGG-P-463C, ISO 10012
Certificate of Accuracy Traceable to NIST
ASME B89.3.7, Fed. Spec. GGG-P-463C, ISO 10012
175
0000000
000000
00000000
000000
18"
12"
4"
0.0001"
Black
ASME B89.3.7, Fed. Spec. GGG-P-463C, ISO 10012
Certificate of Accuracy Traceable to NIST
ASME B89.3.7, Fed. Spec. GGG-P-463C, ISO 10012
83
0000000
000000
00000000
00000
24"
18"
4"
0.00015"
Black
ASME B89.3.7, Fed. Spec. GGG-P-463C, ISO 10012
Certificate of Accuracy Traceable to NIST
ASME B89.3.7, Fed. Spec. GGG-P-463C, ISO 10012
175
0000000
000000
00000000
000000
36"
24"
6"
0.0002"
Black
ASME B89.3.7, Fed. Spec. GGG-P-463C, ISO 10012
Certificate of Accuracy Traceable to NIST
ASME B89.3.7, Fed. Spec. GGG-P-463C, ISO 10012
530
0000000
00000000
00000000
000000
48"
36"
6"
0.0004"
Black
ASME B89.3.7, Fed. Spec. GGG-P-463C, ISO 10012
Certificate of Accuracy Traceable to NIST
ASME B89.3.7, Fed. Spec. GGG-P-463C, ISO 10012
1,063
0000000
00000000
00000000
000000
18"
12"
3"
0.0002"
Black
ASME B89.3.7, Fed. Spec. GGG-P-463C, ISO 10012
Certificate of Accuracy Traceable to NIST
ASME B89.3.7, Fed. Spec. GGG-P-463C, ISO 10012
66
0000000
000000
00000000
00000
24"
18"
3"
0.0003"
Black
ASME B89.3.7, Fed. Spec. GGG-P-463C, ISO 10012
Certificate of Accuracy Traceable to NIST
ASME B89.3.7, Fed. Spec. GGG-P-463C, ISO 10012
130
0000000
000000
00000000
000000
36"
24"
4"
0.0004"
Black
ASME B89.3.7, Fed. Spec. GGG-P-463C, ISO 10012
Certificate of Accuracy Traceable to NIST
ASME B89.3.7, Fed. Spec. GGG-P-463C, ISO 10012
357
0000000
00000000
00000000
000000