About Sealant Flexibility
Carbon Fiber Repair Tape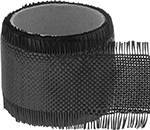 Carbon fibers woven together form a graphite cloth tape for reinforcing joints and repairing cracks on graphite. Use with an epoxy resin adhesive (not included).
Thread Sealant Tape

Made of PTFE, this tape has a slippery surface that keeps threads from binding to make parts easy to assemble.
PTFE tape with graphite creates a better seal between threads than plain PTFE tape, which helps prevent fluid and gas leaks. The graphite attaches to the PTFE, so this tape does not emit harmful VOCs.
Wd.

Lg.,




yd.

Density, g/cm3
For
Fluids
For
Gases

Temp.




Range,

°F

For

Max.


Thread

Dia.

Color
Each

ePTFE with Graphite

5/8

"
27
0.8
2,900
2,900
-400° to 500°
1

1/4

"
Gray
0000000
000000
Packing Seal Tape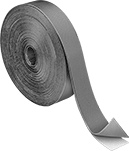 Adhesive Back
For use in valves and pumps, this thin, flexible tape is made from high-purity graphite with no fibers or binders that could contaminate your process line. Graphite is self-lubricating, plus it provides outstanding performance over a wide temperature range.
Adhesive-back tape stays in place during installation.
Wd.

Thick.

Temperature


Range,




°F

Temperature
Range in


Steam,

°F

pH
Resistance
Color
For
Use
With

Lg.,




ft.

Each

1/4

"
0.015"
-320° to 840°
212° to 1,200°
0-14
Gray
Acids, Alkalies, Brines, Oil, Solvents, Water
50
0000000
000000

1/2

"
0.015"
-320° to 840°
212° to 1,200°
0-14
Gray
Acids, Alkalies, Brines, Oil, Solvents, Water
50
0000000
00000

3/4

"
0.015"
-320° to 840°
212° to 1,200°
0-14
Gray
Acids, Alkalies, Brines, Oil, Solvents, Water
50
0000000
00000
1"
0.015"
-320° to 840°
212° to 1,200°
0-14
Gray
Acids, Alkalies, Brines, Oil, Solvents, Water
50
0000000
00000