Grease Fitting Cleaning Tools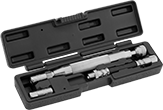 Flush out clogged grease in your fitting. Tapping these tools with a hammer forces light oil through your fitting and removes contamination from bearings, joints, and other parts.
5 5/16" lg. tools are compact and easy to carry. They are best for especially tough clogs. They don't need a dispensing tip to create a tight seal on your fitting, so they apply a more direct pressure than steel tools. But because there's no dispensing tip, you'll need to line up the tool with your fitting to connect it. They can't be used with a hose.
8 1/4" lg. tools come with an extension hose for hard-to-reach fittings. The included dispensing tip creates a tight seal around your fitting and makes it easy to connect the tool.
For technical drawings and 3-D models, click on a part number.