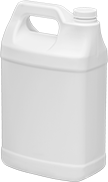 These lubricants go on wet for easy application. Once dry, they form a nonstick film that won't attract dust. Use them for general purpose lubricating in most applications.
Lubricants with moly (molybdenum disulfide) withstand high loads and have excellent wear resistance. Lubricants with graphite have good heat and wear resistance.
Dri Slide lubricants have good corrosion resistance. Use Dri Slide EP Liquid Grease for extreme-pressure applications, such as with open gears and dies, wire drawing, and stamping.
Size
Net
Weight
Type
Additive

Temp.




Range,

°F

Each

Pkg.




Qty.

Pkg.

Dri Slide EP Liquid Grease

__
8 oz.
Aerosol Can
Moly, Graphite
-20° to 750°
0000000
000000
12
00000000
0000000
__
5

1/4

oz.
Aerosol Can
Moly, Graphite
-20° to 750°
0000000
00000
12
00000000
000000
4 fl. oz.
__
Squeeze Bottle
Moly, Graphite
-20° to 750°
0000000
00000
12
00000000
000000
32 fl. oz.
__
Jug
Moly, Graphite
-20° to 750°
0000000
00000
12
00000000
000000
1 gal.
__
Jug
Moly, Graphite
-20° to 750°
0000000
000000
4
00000000
000000