Gear Oil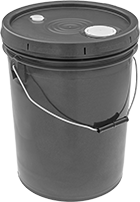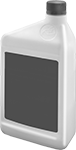 This oil withstands the heavy loads found in gear boxes.
Viscosity is the thickness of an oil. The higher the grade, the thicker the oil, and the less it flows.
Synthetic oil lasts longer than mineral oil and withstands a wider range of temperatures.
Mobil oil can be used with worm gears.
Each
ISO
AGMA
SAE
SSU
Size
Type

Temp.


Range,

°F

Color
With
Detergent
Each

Mobil SHC

634—

Synthetic Base Oil

460
7
140
2235 @ 100° F
32 fl. oz.
Bottle
-15° to 250°
Orange
No
0000000
000000
460
7
140
2235 @ 100° F
5 gal.
Pail
-15° to 250°
Orange
No
0000000
000000
Package
ISO
AGMA
SAE
SSU
Size
Type

Temp.


Range,

°F

Color
With
Detergent

Pkg.




Qty.

Pkg.

Mobil SHC

634—

Synthetic Base Oil

460
7
140
2235 @ 100° F
32 fl. oz.
Bottle
-15° to 250°
Orange
No
6
00000000
0000000