Particle Size

Particle Size
REACH (Registration, Evaluation, Authorization and Restriction of Chemicals)

REACH

(Registration,




Evaluation,

Authorization
and Restriction of

Chemicals)
RoHS (Restriction of Hazardous Substances)

RoHS

(Restriction

of
Hazardous

Substances)
Maximum Temperature

Maximum Temperature
Container Size

Container Size
Performance Properties

Performance Properties
DFARS (Defense Acquisition Regulations Supplement)

DFARS

(Defense

Acquisition

Regulations

Supplement)
Container Type

Container Type
High-Purity

Acid-Resistant

Green Silicon Carbide Powder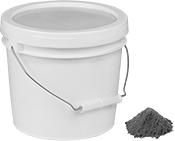 Color:

Green
Temperature

Range:

0° F

to

3,600° F

Hardness:

Mohs 9

Specifications

Met:

JIS

R 6001
Highly pure, this green silicon carbide powder is consistent between batches and bonds better than less pure powders, yielding less cracking and wear in finished products. Products made from green silicon carbide are tough, have excellent corrosion resistance, and good thermal shock resistance. They're often used in technical ceramics applications such as mechanical seals, thread guides, and heat exchangers.
Silicon carbide is nearly chemically inert, meaning it won't corrode in chemical processing environments. It's good for use in rubbing parts such as bearings and bushings because it dissipates heat well and doesn't warp from temperature swings. Mullite, however, is often preferred for applications that include rapid temperature swings. This silicon carbide operates in heat up to 3600° F, so it's commonly used in furnaces and refractories. It's so hard that it's often used for body armor and abrasion processes such as pressure blasting. It's more brittle than other ceramics, though, and is best used with low weight loads at slow to moderate speeds. This powder meets tightly graded, narrow size distribution JIS tolerance standards.
Choose a particle size based on the application of your finished piece. Finer powders can be processed into finished pieces that will be harder, stronger, and more wear-resistant than those made with coarse grains. They may also have a finer finish. Parts made with coarse grain powders can be processed into pieces that are more porous and thermally shock-resistant than pieces made with finer grains. Mixing sizes can combine these properties.