Shock-Absorbing

Flexible Shaft Couplings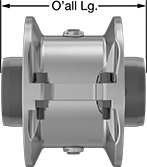 Components of a Coupling Shown Assembled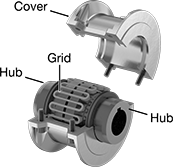 (Each
Component Sold
Separately)
A strip of flexible spring steel wraps around the teeth of both hubs to absorb sharp, momentary load increases that can come from motor startups, emergency braking, or sudden impact with hard objects. When the shock load hits, the strip of spring steel (known as a grid) flexes to spread out the load. After the load passes, the grid straightens back out. They're commonly found in wire drawing and cutting machines, pulverizers, and mixers. Compared to spider couplings, jaw couplings, and other flexible shaft couplings, these handle higher torque while taking up less space. All have keyed bores to work with keyed shafts, which transmit higher torque with less slippage than round shafts.
A complete coupling consists of two hubs as well as a grid and cover assembly (all sold separately). The grid and cover assembly includes a spring steel grid, aluminum cover, rubber seals, and grease for lubrication. When ordering, please choose components that have the same manufacturer series number, otherwise the grid will not fit.
For technical drawings and 3-D models, click on a part number.
Grid and Cover Assemblies

O'all




Lg.

OD
For
Motion
Type

Mfr.


Series
For
Shaft


Dia.

Each
Parallel
Angular

Max.




Speed,


rpm

Max.




Torque,




in.-lbs.

Each
Each
Each

For Keyed Shaft

3

7/8

"
2

9/32

"
Continuous, Forward/Reverse, Start/Stop
Martin (1020T)
000000
000000
0.012"
0.25°
4,500
460
00000000
0000000
00000000
000000
00000000
000000
3

7/8

"
2

21/32

"
Continuous, Forward/Reverse, Start/Stop
Martin (1030T)
000000
00000
0.012"
0.25°
4,500
1,320
00000000
000000
00000000
00000
00000000
00000
4

1/8

"
2

31/32

"
Continuous, Forward/Reverse, Start/Stop
Martin (1040T)
000000
000000
0.012"
0.25°
4,500
2,200
00000000
000000
00000000
000000
00000000
00000
4

7/8

"
3

19/32

"
Continuous, Forward/Reverse, Start/Stop
Martin (1050T)
000000
000000
0.016"
0.25°
4,500
3,850
00000000
000000
00000000
000000
00000000
00000
5

1/8

"
4

3/32

"
Continuous, Forward/Reverse, Start/Stop
Martin (1060T)
000000
000000
0.016"
0.25°
4,350
6,050
00000000
000000
00000000
000000
00000000
00000
7

1/8

"
5

19/32

"
Continuous, Forward/Reverse, Start/Stop
Martin (1080T)
2

7/8

"
0000000
000000
0.016"
0.25°
3,600
18,150
00000000
000000
00000000
000000
00000000
00000
7

7/8

"
6

11/32

"
Continuous, Forward/Reverse, Start/Stop
Martin (1090T)
000000
000000
0.016"
0.25°
3,600
33,000
00000000
000000
00000000
000000
00000000
00000
| | | | |
| --- | --- | --- | --- |
| Additional Grease (14 fl. oz. Grease Gun Cartridge) | 0000000 | Each | 000000 |