Electric Angle Grinders for Grinding Wheels and Sanding Discs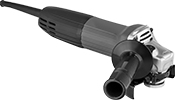 The threaded spindles on these grinders accept raised-hub grinding wheels. Grinders have a spindle lock for fast wheel changes and a slide handle.
Wheel guards are required when using grinding wheels and cups.
Backup pads are required when using sanding discs. Thread the backup pad onto the tool's arbor, then attach a sanding disc and secure with its disc nut.
Caution: Use only accessories that have a greater rpm rating than the maximum speed of the grinder you choose.