Extended-Reach

Flex-Head

Magnetic Retrievers

Round Magnet

Square Magnet
An extra-long shaft and pivoting head lets you access hard-to-reach material from almost any angle.
Hook Retrievers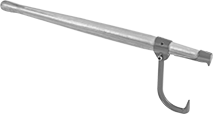 Hinged Hook and Fixed Length Wood
Use these long-handled retrievers to grab and pull objects in hard-to-reach spots.
Hinged retrievers have a pivoting, pointed hook that accommodates objects of different sizes. They are also known as cant hooks.
Nonmarring Picks

Wood with Blunt Tips

Wood with Blunt
Tip ×
Straight Tip
Avoid nicking or scratching sensitive components. Also known as spudgers, these picks are good for adjusting small wires or separating press-fit plastic components.
Wood picks are the economical choice. Also known as orange sticks.