Sanitary Sealing Grommets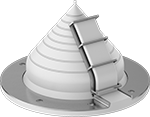 Create a sanitary seal on through-wall piping, tubing, and cables in food-, cosmetic-, and pharmaceutical-processing areas. Made of silicone, these grommets have a wide temperature range, resist washdown chemicals and cleaners, and are FDA compliant for direct contact with food. They're also flexible, so hydraulic pressure surges, pipe expansion, and cord flexing won't break their seal or damage them. No caulk or sealant is needed to install these grommets because their ridges form a strong seal that keeps out dust, debris, and moisture. The ridges also act as guidelines for trimming the center of these grommets to size; they're sized to standard tube diameters.
To mount the flanges of these grommets, use their drilled holes. Flanges are 316 stainless steel to resist corrosion from washdowns with harsh cleaners and sanitizers.
Style 1 grommets work on tubing that isn't installed yet.
Style 2 grommets have a split design to wrap over tubing that's already in place. For a secure seal, crimp the included metal staples over the seal using pliers.
Style 3 grommets are flat, so they're best for tight spaces.
For technical drawings and 3-D models, click on a part number.
Style
ID
Flange
Diameter


(D)

Overall
Height


(E)

Temperature


Range,




°F

For
Use
Outdoors
Number of
Mounting
Holes
Mounting
Hole
Diameter
Mounting
Fasteners
Included
Color
Specifications
Met
Each

Silicone Rubber with 316 Stainless Steel Flange

1
0"-1"
2

3/4

"
2"
-40° to 500°
No
4
0.177"
No
White
FDA Compliant 21 CFR 177.2600

0000000
000000
1
0"-2

1/2

"
4

1/8

"
2

3/8

"
-40° to 500°
No
4
0.177"
No
White
FDA Compliant 21 CFR 177.2600

0000000
00000
1
0"-3

3/4

"
5

3/4

"
3"
-40° to 500°
No
6
0.177"
No
White
FDA Compliant 21 CFR 177.2600

0000000
00000
2
0"-2

1/2

"
4

1/8

"
2

3/8

"
-40° to 500°
No
5
0.177"
No
White
FDA Compliant 21 CFR 177.2600

0000000
00000
2
0"-3

3/4

"
5

3/4

"
3"
-40° to 500°
No
7
0.177"
No
White
FDA Compliant 21 CFR 177.2600

0000000
00000
3
0"-1"
2

3/4

"

3/8

"
-40° to 500°
No
4
0.177"
No
White
FDA Compliant 21 CFR 177.2600

0000000
00000
3
0"-2

1/2

"
4

1/8

"

3/8

"
-40° to 500°
No
4
0.177"
No
White
FDA Compliant 21 CFR 177.2600

0000000
00000
3
0"-3

3/4

"
5

3/4

"

3/8

"
-40° to 500°
No
6
0.177"
No
White
FDA Compliant 21 CFR 177.2600

0000000
00000