Hardened
High-Strength

17-4

PH Stainless Steel
This material is hardened for improved strength and wear resistance. With a higher chromium content than 15-5 PH stainless steel, this high-strength 17-4 PH offers better corrosion resistance. It is also known as 630 stainless steel. This material maintains its corrosion resistance in temperatures up to 1100° F.
For technical drawings and 3-D models, click on a part number.

Certificates with a traceable lot number are available for these products. Download certificates from ORDER HISTORY after your order ships.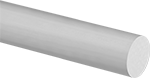 Yield

Strength:

105,

000 psi

Hardness:

Rockwell C28

(Hard)

Heat

Treatment:

Hardened

Temper: H1150

Specifications

Met:

ASTM

A564,

SAE AMS5643
Dia.

Dia.


Tolerance
Fabrication
Straightness
Tolerance
Magnetic
Properties

1/2




ft.




Lg.

1 ft.




Lg.

2 ft.




Lg.

3 ft.




Lg.

6 ft.




Lg.

1/2

"
-0.003" to 0.003"
Cold Drawn

1/16

" per 5 ft.
Magnetic
00000000

5/8

"
-0.002" to 0.002"
Cold Drawn

1/16

" per 5 ft.
Magnetic
00000000

3/4

"
-0.003" to 0.003"
Cold Drawn

1/16

" per 5 ft.
Magnetic
00000000

7/8

"
-0.003" to 0.003"
Cold Drawn

1/16

" per 5 ft.
Magnetic
00000000
1"
-0.003" to 0.003"
Cold Drawn

1/16

" per 5 ft.
Magnetic
00000000
1

1/8

"
-0.003" to 0.003"
Cold Drawn

1/16

" per 5 ft.
Magnetic
00000000
1

1/4

"
-0.003" to 0.003"
Cold Drawn

1/16

" per 5 ft.
Magnetic
00000000
1

3/8

"
-0.003" to 0.003"
Cold Drawn

1/16

" per 5 ft.
Magnetic
00000000
1

1/2

"
-0.003" to 0.003"
Cold Drawn

1/16

" per 5 ft.
Magnetic
00000000
1

5/8

"
-0.003" to 0.003"
Cold Drawn

1/16

" per 5 ft.
Magnetic
00000000
1

3/4

"
-0.003" to 0.003"
Cold Drawn

1/16

" per 5 ft.
Magnetic
00000000
1

7/8

"
-0.003" to 0.003"
Cold Drawn

1/16

" per 5 ft.
Magnetic
00000000
2"
-0.003" to 0.003"
Cold Drawn

1/16

" per 5 ft.
Magnetic
00000000
2

1/8

"
-0.003" to 0.003"
Cold Drawn

1/16

" per 5 ft.
Magnetic
00000000
2

1/4

"
-0.003" to 0.003"
Cold Drawn

1/16

" per 5 ft.
Magnetic
00000000
2

1/2

"
-0.003" to 0.003"
Cold Drawn

1/16

" per 5 ft.
Magnetic
00000000
2

3/4

"
-0.003" to 0.003"
Cold Drawn

1/16

" per 5 ft.
Magnetic
00000000
3"
-0.003" to 0.003"
Cold Drawn

1/16

" per 5 ft.
Magnetic
00000000
4"
-0.003" to 0.003"
Hot Rolled

1/16

" per 5 ft.
Magnetic
00000000