Finned Tubular Heaters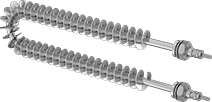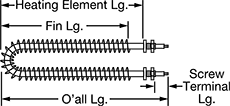 These tubular heaters minimize the risk of sparks and fire from combustible particles in the flow stream, making them a safer choice than open coil heaters. Finned for increased surface area, they quickly dissipate heat in air and inert gas heating systems such as duct heaters and convection ovens. Their sheath, fins, and fittings are made of stainless steel, which resists heat and corrosion better than steel. These heaters require a temperature switch or control (sold separately) to regulate output.
For technical drawings and 3-D models, click on a part number.
Wattage,


W
Watt


Density,




W/sq.

in.

Current,


A
Overall


Lg.

Maximum
Heat


Output,

°F

Lg.

Dia.

Material

Lg.

Material
Thread
Size

Lg.

Each

U-Bend—

Welded on Both Ends

1,000
60
8.3
12"
1200°
8

3/4

"

15/16

"
Stainless Steel
10

1/4

"
304 Stainless Steel
8-32

1

1/8

"
0000000
0000000

U-Bend—

Welded on Both Ends

1,000
80
2.1
9

3/4

"
1200°
6

1/2

"
1

3/16

"
Stainless Steel
7

3/4

"
304 Stainless Steel
10-32

1

1/8

"
0000000
000000
2,000
80
4.2
15

3/4

"
1200°
12

1/2

"
1

3/16

"
Stainless Steel
13

3/4

"
304 Stainless Steel
10-32

1

1/8

"
0000000
000000
3,000
80
6.3
22

1/4

"
1200°
19"
1

3/16

"
Stainless Steel
20

1/4

"
304 Stainless Steel
10-32

1

1/8

"
0000000
000000
4,000
80
8.3
28

1/4

"
1200°
25"
1

3/16

"
Stainless Steel
26

1/4

"
304 Stainless Steel
10-32

1

1/8

"
0000000
000000