How to

Identify and Measure Fittings
Pipe size is an industry designation, not the actual size. View information about how to measure threaded and unthreaded pipe and pipe fittings.
High-Pressure

Iron and Steel Threaded Pipe Fittings
These fittings can stand up to high-pressure applications. Use them in noncorrosive environments.
Union connectors separate into three pieces so you can access your line without unthreading pipe connections.
Phosphate-coated and zinc-phosphate-coated fittings offer some corrosion resistance, but aren't intended for corrosive environments.
For technical drawings and 3-D models, click on a part number.
Union Straight Connectors with Lugs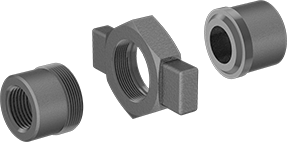 Exploded View
For Use

With:

Air,

Hydraulic

Fluid,

Natural

Gas,

Oil,

Steam,

Water
Pressure

Class: 3000

Specifications

Met:

MSS SP-

83,

ASME

B1.20.1,

ASTM A105

Pipe Nipples and

Pipe:

Use Schedule 160 steel

Flanges:

Use Class 1500 steel
Pipe
Size

Dash
Size

Max.

Pressure

Max.

Steam Pressure
Material
Each

NPT Female

1/2

08
3,000 psi @ 72° F
300 psi @ 360° F
Zinc-Phosphate-Coated Steel
00000000
000000

3/4

12
3,000 psi @ 72° F
300 psi @ 360° F
Zinc-Phosphate-Coated Steel
00000000
000000
1

16
3,000 psi @ 72° F
300 psi @ 360° F
Zinc-Phosphate-Coated Steel
00000000
000000
1

1/4

20
3,000 psi @ 72° F
300 psi @ 360° F
Zinc-Phosphate-Coated Steel
00000000
000000
1

1/2

24
3,000 psi @ 72° F
300 psi @ 360° F
Zinc-Phosphate-Coated Steel
00000000
000000
2

32
3,000 psi @ 72° F
300 psi @ 360° F
Zinc-Phosphate-Coated Steel
00000000
000000
2

1/2

40
3,000 psi @ 72° F
300 psi @ 360° F
Zinc-Phosphate-Coated Steel
00000000
000000
3

48
3,000 psi @ 72° F
300 psi @ 360° F
Zinc-Phosphate-Coated Steel
00000000
000000
4

64
3,000 psi @ 72° F
300 psi @ 360° F
Zinc-Phosphate-Coated Steel
00000000
00000000