Clamp-On Framing Component

Clamp-

On Framing Component
DFARS (Defense Acquisition Regulations Supplement)

DFARS

(Defense

Acquisition

Regulations

Supplement)
RoHS (Restriction of Hazardous Substances)

RoHS

(Restriction

of
Hazardous

Substances)
Mounting Foot Type

Mounting Foot Type
REACH (Registration, Evaluation, Authorization and Restriction of Chemicals)

REACH

(Registration,




Evaluation,

Authorization
and Restriction of

Chemicals)
Clamp-On

Framing and Fittings
Fittings come in two pieces to clasp over rails, making assembly and disassembly quicker than our other framing. Use it to form temporary partitions, modular conveyors, and workstations. To assemble, clamp fittings onto the rail and tighten the included cap screw and nut. For permanent connections and added strength, fittings have a 5/32" hole to drill in an additional screw (not included).
For technical drawings and 3-D models, click on a part number.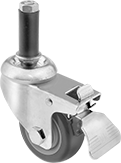 Swivel Stem Caster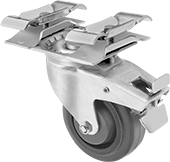 Swivel Plate Caster
Swivel stem caster fits directly into the end of the rail.
Swivel plate caster clamps onto horizontal rails.