Pegboard Thickness

Pegboard Thickness
Peg Hole Diameter

Peg Hole Diameter
| | |
| --- | --- |
| | |
DFARS (Defense Acquisition Regulations Supplement)

DFARS

(Defense

Acquisition

Regulations

Supplement)
Peg Hole Center-to-Center

Peg Hole

Center-

to-

Center
RoHS (Restriction of Hazardous Substances)

RoHS

(Restriction

of
Hazardous

Substances)
Framed Pegboards with Dry Erase Board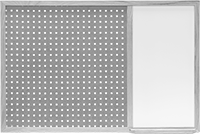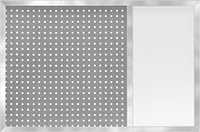 Aluminum Frame
Write notes and reminders on the dry erase board. The frame prevents the pegboard from warping and has hangers on the back for easy installation. It also provides clearance for hooks and holders.
Oak frames have a tray to hold markers.
Aluminum frames are more durable than oak frames.
For technical drawings and 3-D models, click on a part number.
Peg Hole


Dia.

Wd.

Ht.

Pegboard


Thick.

Peg Hole


Center-to-Center

Dry Erase
Board

Wd.

Screw
Size
Mounting
Fasteners Included
Projection
Each

Polyurethane-Coated

Oak Frame

Brown Hardboard and White Dry Erase

9/32

"
36"
24"

1/4

"
1"
10

1/2

"

3/8

"

No

3/4

"
0000000
0000000

9/32

"
48"
36"

1/4

"
1"
10

1/2

"

3/8

"

No

3/4

"
0000000
000000

9/32

"
48"
48"

1/4

"
1"
10

1/2

"

3/8

"

No

3/4

"
0000000
000000

9/32

"
72"
48"

1/4

"
1"
10

1/2

"

3/8

"

No

3/4

"
0000000
000000

9/32

"
96"
48"

1/4

"
1"
10

1/2

"

3/8

"

No

3/4

"
0000000
000000

Aluminum Frame

Brown Hardboard and White Dry Erase

9/32

"
36"
24"

1/4

"
1"
10

1/2

"

3/8

"

No

1/2

"
0000000
000000

9/32

"
48"
36"

1/4

"
1"
10

1/2

"

3/8

"

No

1/2

"
0000000
000000

9/32

"
48"
48"

1/4

"
1"
10

1/2

"

3/8

"

No

1/2

"
0000000
000000

9/32

"
72"
48"

1/4

"
1"
10

1/2

"

3/8

"

No

1/2

"
0000000
000000

9/32

"
96"
48"

1/4

"
1"
10

1/2

"

3/8

"

No

1/2

"
0000000
000000