DFARS (Defense Acquisition Regulations Supplement)

DFARS

(Defense

Acquisition

Regulations

Supplement)
Mounting Location

Mounting Location
Show
Maximum Temperature

Maximum Temperature
Minimum Temperature

Minimum Temperature
Pipe Cradles for Loop Hangers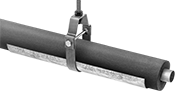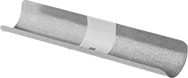 Adhesive Mount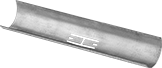 Also known as pipe shields, these cradles provide additional support and prevent insulation from tearing when routing insulated pipe through loop hangers.
Adhesive-mount cradles have an adhesive strip that attaches the cradle to the pipe's insulation.
Clip-on-mount cradles have tabs that clip directly onto the bottom of a loop hanger.
For technical drawings and 3-D models, click on a part number.
Inch

Metric,


mm

Lg.

Wd.

Ht.

Thick.

Temp.




Range,

°F

Each

Galvanized Steel

Adhesive Mount

1

7/8

"
48
12"
2"
1"

1/32

"
-150° to 500°
0000000
00000
2

3/8

"
60
12"
2

1/2

"
1

1/4

"

1/32

"
-150° to 500°
0000000
0000
2

7/8

"
73
12"
3"
1

1/2

"

1/32

"
-150° to 500°
0000000
0000
3

1/2

"
89
12"
3

1/2

"
1

3/4

"

1/32

"
-150° to 500°
0000000
0000
4"
102
12"
4"
2"

1/32

"
-150° to 500°
0000000
0000
4

1/2

"
114
12"
4

1/2

"
2

1/4

"

1/32

"
-150° to 500°
0000000
0000
5"
127
12"
5"
2

1/2

"

1/32

"
-150° to 500°
0000000
0000
5

9/16

"
141
12"
5

1/2

"
2

3/4

"

1/32

"
-150° to 500°
0000000
0000
6

1/8

"
156
12"
6"
3"

1/16

"
-150° to 500°
0000000
0000
1

7/8

"
48
12"
2"
1"

3/64

"
__
0000000
00000
2

3/8

"
60
12"
2

1/2

"
1

1/4

"

3/64

"
__
0000000
00000
2

7/8

"
73
12"
3"
1

1/2

"

3/64

"
__
0000000
00000
3

1/2

"
89
12"
3

5/8

"
1

13/16

"

3/64

"
__
0000000
00000
4"
102
12"
4

1/8

"
2

1/16

"

3/64

"
__
0000000
00000
4

1/2

"
114
12"
4

5/8

"
2

5/16

"

3/64

"
__
0000000
00000
5"
127
12"
5

1/8

"
2

9/16

"

3/64

"
__
0000000
00000
5

9/16

"
141
12"
5

11/16

"
2

13/16

"

3/64

"
__
0000000
00000
6

5/8

"
168
12"
6

3/4

"
3

3/8

"

1/16

"
__
0000000
00000
7

5/8

"
194
12"
7

3/4

"
3

7/8

"

1/16

"
__
0000000
00000
8

5/8

"
219
12"
8

3/4

"
4

3/8

"

1/16

"
__
0000000
00000