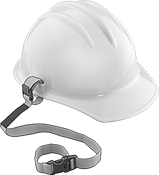 Attach to your hard hat to prevent accidental drops.
Lg.

Material
Construction
Connection Type
Each
23

1/4

"
Polyester/Rubber
Webbing
Elastic Strap with Cinching Buckle × Cinching Buckle
0000000
00000
Grease Fitting Dust Caps
Keep grease fittings free of dirt and moisture.
Cap sets are useful for color-coding fittings based on what grease they take.
For technical drawings and 3-D models, click on a part number.
Caps for Standard Grease Fittings


Color
Material
Cap
ID

Max.




Temp.,

°F

Pkg.




Qty.

Eye


Dia.

1-9

10-Up

Eye


Dia.

1-9

10-Up

Black
Polyethylene Plastic

15/64

"
150°
50

15/64

"
0000000
00000
00000

25/64

"
0000000
000000
00000
Blue
Polyethylene Plastic

15/64

"
150°
50

15/64

"
0000000
0000
0000

25/64

"
0000000
00000
0000
Green
Polyethylene Plastic

15/64

"
150°
50

15/64

"
0000000
0000
0000

25/64

"
0000000
00000
0000
Red
Polyethylene Plastic

15/64

"
150°
50

15/64

"
0000000
0000
0000

25/64

"
0000000
00000
0000
White
Polyethylene Plastic

15/64

"
150°
50

15/64

"
0000000
0000
0000

25/64

"
0000000
00000
0000
Yellow
Polyethylene Plastic

15/64

"
150°
50

15/64

"
0000000
0000
0000

25/64

"
0000000
00000
0000
Caps for Button Head Grease Fittings

Color
Material
Cap
ID

Temp.




Range,

°F

Each
Red
Buna-N Rubber

29/64

"
-40 ° to 150°
0000000
00000
Cap Sets for Standard Grease Fittings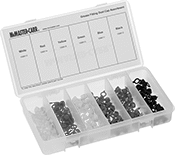 Number
of Pieces
Material
Includes
Container Type
Cap
ID

Max.




Temp.,

°F

Eye


Dia.

Each
150
Polyethylene Plastic
25 Each Black Dust Caps
25 Each Blue Dust Caps
25 Each Green Dust Caps
25 Each Red Dust Caps
25 Each White Dust Caps
25 Each Yellow Dust Caps
Plastic Case

15/64

"
150°

15/64

"
0000000
000000