Lifting Straps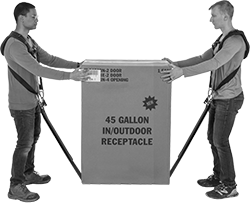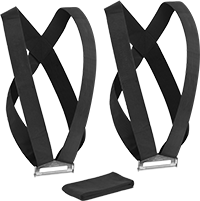 Harnesses with Forearm Loops and Moving Strap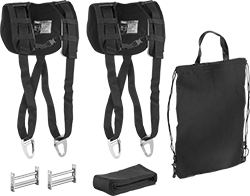 Padded Harnesses and Moving Strap
Lift and move items with a two-person team using leg and shoulder strength, minimizing strain and injury risk for your back, arms, and hands. These lifting straps leave your hands free to open doors, hold onto handrails, and balance the object you're moving. They're often used in stairwells and other areas where dollies and forklifts may not work.
Use just the loops on the harnesses with forearm loops to raise items higher than you'd be able to when wearing the entire harness. They're often used in loading docks and other areas with tall platforms.
Padded harnesses distribute weight across your back, reducing stress on your shoulders for comfortable wear during frequent use.
Capacity,




lbs.

Includes
Harness Material

Lg.,




ft.

Wd.

Number of
People Required
Strap Size
Each
800
Two Harnesses with Forearm Loops, Adjustable Moving Strap
Polypropylene Plastic
12
5"
2
One Size Fits All
0000000
000000
1,000
Two Adjustable Padded Harnesses, Adjustable Moving Strap, Carrying Bag, Instructions, Snap Rings, Tension Buckles
Nylon Plastic
12
5"
2
One Size Fits All
0000000
000000