HDMI Splitters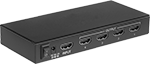 With Four Output Connections
Play audio and 4K video from a single source on multiple displays. These HDMI splitters are handy for classrooms, conference rooms, factory floors, and trade shows. To reach more displays, link multiple splitters together—this is known as a daisy chain.
Input
Output
Height
Width
Depth
Housing
Material
Color
For
Video
Resolution
Current
Voltage
Power
Cord


Length,

ft.

Plug
Type
NEMA
Style
Specifications
Met
Each

HDMI Female × HDMI Female

1
4

7/8

"
6

1/8

"
2

3/4

"
Steel
Black
3840 × 2160
0.4A
240V AC
4
Two Prong
1-15
CE Marked

0000000
000000
Video Splitters



Send video and audio from a single DisplayPort output to multiple displays. These splitters are often used to show the same image on multiple screens or to stretch a computer desktop across two monitors.
Inputs
Outputs
Housing
Material
Color
Current
Voltage
Mounting
Hardware
Included
Includes
Cord
Length
Cannot
Be
Sold To
Each

DisplayPort Female × DisplayPort Female

1
2
Metal
Black
2A
5V DC
Yes
AC Adapter, Power Cord
5 ft.
Canada
0000000
0000000

Hub with
Female USB
A,
USB
C,
Ethernet,
Stereo,
DisplayPort,
HD15,
and HDMI Connections
Connect additional USB ports to your computer. These hubs can run off a computer's power. USB ports are backward compatible, so they work with cords and connectors that meet the same or a lower USB standard.
Hubs with connections that meet USB standard 2.0 allow for transmission speeds of up to 480 Mbps.
Hubs with connections that meet USB standard 3.1 Gen 1 or USB standard 3.2 Gen 1 allow for transmission speeds of up to 5 Gbps. Those with audio/data/video applications have one connection each for DisplayPort, HD15, and HDMI cables, so you can connect your computer or laptop to up to three monitors. Mac OS devices will only extend data to one monitor; the other monitors will mirror data from the first. To protect against theft, these hubs also accept your computer's security cable.
USB Hubs with Ethernet and HDMI Connections—USB C, Standard 3.2 Gen 1 Male Connection
Female
Connection
Type

(Number of)

Application
Supported
Memory
Card Formats
Cord


Lg.

Color
Housing
Material

Lg.

Wd.

Ht.

Each
3.5 mm Stereo Pin Socket (1)
DisplayPort (1)
Ethernet RJ45 (1)
HD15 (1)
HDMI (1)
USB A, Standard 2.0 (2)
USB A, Standard 3.2 Gen 1 (3)
USB C, Standard 3.2 Gen 1 (2)
Audio/Data/Video
Micro SD, MMC/SD
5

3/4

"
Black
Plastic
13

3/4

"
2

7/8

"

3/4

"
0000000
0000000