Cooling Bandanas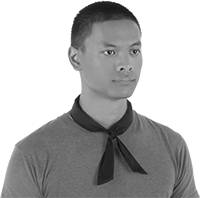 Cotton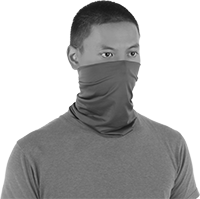 Soak these bandanas before wearing them—they'll cool you off as the water evaporates.
Cotton bandanas contain absorbent cooling crystals to hold large amounts of water. Soak in cold water for 20 minutes for all-day cooling.
Run polyester/spandex bandanas under cold water and wring them out for instant cooling that lasts up to three hours. With UPF 50 sun protection, they protect your skin from UV rays when working outside. An odor-resistant finish prevents bacteria growth, eliminating odors caused by sweat. Reflective accents call attention to the wearer in low-light conditions, helping keep them safe. They have a low profile so they're easily worn under hard hats. The polyester/spandex fabric is durable for long-term use while remaining soft and comfortable. It's breathable to keep you cool, and easy to breathe through when used as a face covering. These bandanas are moisture wicking when dry, helping keep sweat out of your eyes when worn as a headband. High visibility bandanas come in neon colors, helping prevent accidents by making wearers easy to spot.
Lg.

Dia.

Ultraviolet
Protection
Factor

(UPF)

Features
Size
Choose
a
Color

1-5

6-Up

Cotton Fabric

34"
__
__
Cooling Crystals
One Size
0000000
00000
00000

Polyester/Spandex

Fabric Blend

19

5/8

"
9

7/8

"
50
Odor-Resistant Finish, Reflective Accents
One Size
0000000
00000
00

High-Visibility

Polyester/Spandex

Fabric Blend

19

5/8

"
9

7/8

"
50
Odor-Resistant Finish, Reflective Accents
One Size
0000000
00000
00