High-Temperature

Breathable Round Bellows with Flange Ends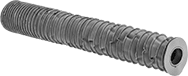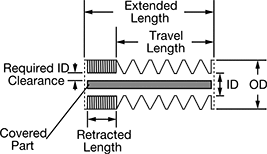 These fiberglass bellows withstand temperatures up to 450° F—about twice as much as standard breathable round bellows with flange ends. They also protect against flames and sparks. Slide these bellows over moving parts such as rods and shafts. Sewn seams let them breathe, so they retract quickly in fast-cycling applications. The seams will allow small amounts of moisture and dust to pass through. Screw mount the flange ends to surfaces, or add a mounting flange (sold separately) for stability.
For technical drawings and 3-D models, click on a part number.
Extended
Retracted
Travel
Required
ID
Clearance
Material
Material


Thick.

Temp.




Range,




°F

Mounting
Fasteners
Included
Each
Each

Protects Against

Flames,

Oil,

Sparks

1 ft.

3/4

"
11

1/4

"

3/16

"
Silicone-Coated Fiberglass Fabric
0.016"
-60° to 450°
No
000000000
000000
0000000
000000
2 ft.
1

1/2

"
22

1/2

"

3/16

"
Silicone-Coated Fiberglass Fabric
0.016"
-60° to 450°
No
000000000
000000
0000000
00000
3 ft.
2

1/4

"
33

3/4

"

3/16

"
Silicone-Coated Fiberglass Fabric
0.016"
-60° to 450°
No
000000000
000000
0000000
00000
4 ft.
3"
45"

3/16

"
Silicone-Coated Fiberglass Fabric
0.016"
-60° to 450°
No
000000000
000000
0000000
00000
1 ft.

3/4

"
11

1/4

"

1/4

"
Silicone-Coated Fiberglass Fabric
0.016"
-60° to 450°
No
000000000
00000
0000000
00000
2 ft.
1

1/2

"
22

1/2

"

1/4

"
Silicone-Coated Fiberglass Fabric
0.016"
-60° to 450°
No
000000000
000000
0000000
00000
3 ft.
2

1/4

"
33

3/4

"

1/4

"
Silicone-Coated Fiberglass Fabric
0.016"
-60° to 450°
No
000000000
000000
0000000
00000
4 ft.
3"
45"

1/4

"
Silicone-Coated Fiberglass Fabric
0.016"
-60° to 450°
No
000000000
000000
0000000
00000
1 ft.

3/4

"
11

1/4

"

3/8

"
Silicone-Coated Fiberglass Fabric
0.016"
-60° to 450°
No
000000000
00000
0000000
00000
2 ft.
1

1/2

"
22

1/2

"

3/8

"
Silicone-Coated Fiberglass Fabric
0.016"
-60° to 450°
No
000000000
000000
0000000
00000
3 ft.
2

1/4

"
33

3/4

"

3/8

"
Silicone-Coated Fiberglass Fabric
0.016"
-60° to 450°
No
000000000
000000
0000000
00000
4 ft.
3"
45"

3/8

"
Silicone-Coated Fiberglass Fabric
0.016"
-60° to 450°
No
000000000
000000
0000000
00000
1 ft.

3/4

"
11

1/4

"

3/8

"
Silicone-Coated Fiberglass Fabric
0.016"
-60° to 450°
No
000000000
00000
0000000
00000
2 ft.
1

1/2

"
22

1/2

"

3/8

"
Silicone-Coated Fiberglass Fabric
0.016"
-60° to 450°
No
000000000
000000
0000000
00000
3 ft.
2

1/4

"
33

3/4

"

3/8

"
Silicone-Coated Fiberglass Fabric
0.016"
-60° to 450°
No
000000000
000000
0000000
00000
4 ft.
3"
45"

3/8

"
Silicone-Coated Fiberglass Fabric
0.016"
-60° to 450°
No
000000000
000000
0000000
00000
1 ft.

3/4

"
11

1/4

"

3/8

"
Silicone-Coated Fiberglass Fabric
0.016"
-60° to 450°
No
000000000
00000
0000000
00000
2 ft.
1

1/2

"
22

1/2

"

3/8

"
Silicone-Coated Fiberglass Fabric
0.016"
-60° to 450°
No
000000000
000000
0000000
00000
3 ft.
2

1/4

"
33

3/4

"

3/8

"
Silicone-Coated Fiberglass Fabric
0.016"
-60° to 450°
No
000000000
000000
0000000
00000
4 ft.
3"
45"

3/8

"
Silicone-Coated Fiberglass Fabric
0.016"
-60° to 450°
No
000000000
000000
0000000
00000
1 ft.

3/4

"
11

1/4

"

3/8

"
Silicone-Coated Fiberglass Fabric
0.016"
-60° to 450°
No
000000000
000000
0000000
00000
2 ft.
1

1/2

"
22

1/2

"

3/8

"
Silicone-Coated Fiberglass Fabric
0.016"
-60° to 450°
No
000000000
000000
0000000
00000
3 ft.
2

1/4

"
33

3/4

"

3/8

"
Silicone-Coated Fiberglass Fabric
0.016"
-60° to 450°
No
000000000
000000
0000000
00000
4 ft.
3"
45"

3/8

"
Silicone-Coated Fiberglass Fabric
0.016"
-60° to 450°
No
000000000
000000
0000000
00000
1 ft.

3/4

"
11

1/4

"

3/8

"
Silicone-Coated Fiberglass Fabric
0.016"
-60° to 450°
No
000000000
000000
0000000
00000
2 ft.
1

1/2

"
22

1/2

"

3/8

"
Silicone-Coated Fiberglass Fabric
0.016"
-60° to 450°
No
000000000
000000
0000000
00000
3 ft.
2

1/4

"
33

3/4

"

3/8

"
Silicone-Coated Fiberglass Fabric
0.016"
-60° to 450°
No
000000000
000000
0000000
00000
4 ft.
3"
45"

3/8

"
Silicone-Coated Fiberglass Fabric
0.016"
-60° to 450°
No
000000000
000000
0000000
00000