About
Flame-Resistant

Arc-Rated

Personal Protection
Electrical-Protection

Gloves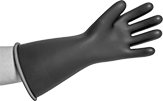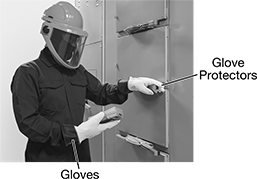 ASTM D120 rated for use when handling live electrical equipment, these gloves come tested and marked with the test date. You have one year from the test date to put gloves into service before they must be retested. Once in use, gloves should be tested every six months. All gloves meet NFPA 70E for protection against arc-flash hazards.
ASTM defines voltage classes for rubber insulating gloves. Before working with electrical equipment, make sure you have the right protection.
Wear-indicating gloves have a colored inner layer that shows through the coating as it wears off, making it easy to inspect them for signs of wear such as cracks and pinholes.
Protectors (sold separately) must be worn over gloves for ASTM compliance when working with live electrical equipment. Protectors should be the same size as the gloves they will be worn over. Goatskin protectors cannot be sold to Canada due to import regulations.
Strap your glove to an inspection pump (sold separately) and inflate to check Class 1-4 gloves for cracks, pinholes, and other signs of wear. Purchase an adapter (sold separately) to use the inspection pump with Class 0 and 00 gloves.