These are the same guardrails you see along roadways.
Drive posts into the ground and then attach rails and end pieces to create a barrier.
Anchor bracket end pieces secure rails to concrete. They're often used to mount rails on bridges and buildings.
For technical drawings and 3-D models, click on a part number.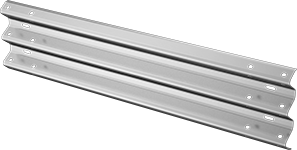 Three Wave Rail
Lg.

Ht.

Material


Thick.

Material
Mounting Hardware
Each
7'3

1/2

"
12"

1/8

"
Galvanized Steel
Connecting Fasteners Included
00000000
0000000
13'6

1/2

"
12

1/4

"

1/8

"
Galvanized Steel
Connecting Fasteners Included
000000
000000
7'3

1/2

"
20"

1/8

"
Galvanized Steel
Connecting Fasteners Included
00000000
000000
13'6

1/2

"
20"

1/8

"
Galvanized Steel
Connecting Fasteners Included
00000000
000000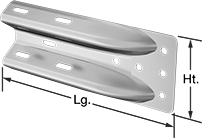 Anchor Bracket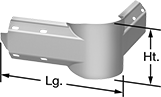 Corner

Flared
Wraparound
Style

Lg.

Ht.

Dia.

Material


Thick.

Material
Mounting
Hardware
Each
Anchor Bracket
2'4"
12"
__

1/8

"
Galvanized Steel
Connecting Fasteners Included
00000000
000000
Corner
2'7" × 2'7"
16"
__

1/8

"
Galvanized Steel
Connecting Fasteners Included
0000000
000000
Flared
2'3

1/2

"
19"
__

1/8

"
Galvanized Steel
Connecting Fasteners Included
000000
00000
Wraparound
2'0"
16"
4"

1/8

"
Galvanized Steel
Connecting Fasteners Included
0000000
00000
Wraparound
2'0"
16

1/4

"
12"

1/8

"
Galvanized Steel
Connecting Fasteners Included
000000
000000
Flared
2'3

1/2

"
20"
__

1/8

"
Galvanized Steel
Connecting Fasteners Included
00000000
000000
Wraparound
2'0"
24"
6"

1/8

"
Galvanized Steel
Connecting Fasteners Included
00000000
000000

Post for Rail
Ht.

Wd.

Dp.

Material


Thick.

Material
Mounting Hardware
Each
48"
4"
6"

1/8

"
Galvanized Steel
Connecting Fasteners Included
0000000
0000000
60"
4"
6"

1/8

"
Galvanized Steel
Connecting Fasteners Included
0000000
000000
72"
4"
6"

1/8

"
Galvanized Steel
Connecting Fasteners Included
0000000
000000
84"
4"
6"

1/8

"
Galvanized Steel
Connecting Fasteners Included
00000000
000000