Clean Room Lid Supports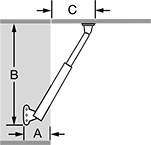 Free Moving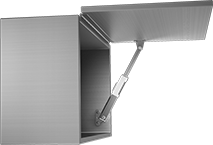 Shown in the Side
Mount,
Opens Up Orientation
Keep environments free of contaminants—with plastic bushings, there's no metal-to-metal contact that can release particles as these supports open and close. Manually control these free-moving lid supports through their full range of motion. Raise the lid until the hold-open mechanism on the support is engaged; slightly lift it again to release the hold and close the lid. To secure the lid in a closed position, use a latch or lock (not included; see our clean room magnetic latches).
These supports can be used on lids that open up from the side, which are good for overhead installations, and on lids that open up from the top, which are good for crates, hatches, and tool chests. They are rated for maximum lid weight—do not exceed the weight listed. The supports can be used individually but should be used in pairs for lids longer than 24". They are reversible for right-side or left-side mounting positions.
Dp.




(A)

Clearance


(B)

Lid Mounting
Clearance


(C)

For Lid
Opening
Angle
One
Lid
Support
Two
Lid
Supports
Material
Appearance
Hold
Lid
Closed
Hardware
Included
Screw
Size

No.


of
Holes
Each

Side

Mount,

Opens Up or Top

Mount,

Opens Up

1.57"
8.43"
2.81"
90°
33
66
304 Stainless Steel
Dull
No
No
M4

4
0000000
000000