About Rod Ends

Internally Threaded Ball Joint Linkages

Without Seal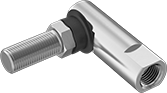 With Seal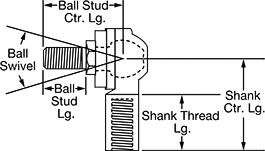 Able to stand up to frequent use, these linkages offer excellent wear resistance. They consist of ball joint rod ends with a ball stud attached to simplify mounting. The stud is machined to fit perfectly inside its housing and swivel in all directions—good for clutches, throttles, and shift control rods. Periodic lubrication may be required to keep them operating smoothly.
Linkages with seal have a seal to keep lubricant in and dirt out.
For technical drawings and 3-D models, click on a part number.
Thread
Size
Center


Lg.

Thread


Lg.

Thread
Size
Center


Lg.

Lg.

Max.


Ball
Swivel
Static Radial
Load

Cap.,




lbs.

Material
Each

Right-Hand

Threaded Ball Stud

Ball Joint Linkages

Right-Hand

Threaded Shank

10-32
1

1/16

"

1/2

"
10-32
1

1/64

"

1/2

"
45°
Not Rated
Zinc-Plated Carbon Steel
000000000
00000

1/4

"-28
1

5/16

"

11/16

"

1/4

"-28
1

1/32

"

9/16

"
40°
Not Rated
Zinc-Plated Carbon Steel
000000000
0000

5/16

"-24
1

3/8

"

11/16

"

5/16

"-24
1

7/32

"

11/16

"
42°
Not Rated
Zinc-Plated Carbon Steel
000000000
0000

3/8

"-24
1

5/8

"

13/16

"

3/8

"-24
1

9/16

"

29/32

"
46°
Not Rated
Zinc-Plated Carbon Steel
000000000
00000

7/16

"-20
1

13/16

"

15/16

"

7/16

"-20
1

3/4

"
1

1/16

"
44°
Not Rated
Zinc-Plated Carbon Steel
000000000
00000

1/2

"-20
2

1/8

"
1

1/16

"

1/2

"-20
2"
1

1/8

"
48°
Not Rated
Zinc-Plated Carbon Steel
000000000
00000

5/8

"-18
2

1/2

"
1

3/8

"

5/8

"-18
2

1/2

"
1

1/2

"
52°
Not Rated
Zinc-Plated Carbon Steel
000000000
00000

3/4

"-16
2

7/8

"
1

9/16

"

3/4

"-16
3"
1

13/16

"
46°
Not Rated
Zinc-Plated Carbon Steel
000000000
00000
10-32
1

1/16

"

1/2

"
10-32
1

1/64

"

1/2

"
45°
Not Rated
Zinc-Plated Carbon Steel
000000000
0000

1/4

"-28
1

5/16

"

11/16

"

1/4

"-28
1

1/32

"

9/16

"
40°
Not Rated
Zinc-Plated Carbon Steel
000000000
0000

5/16

"-24
1

3/8

"

11/16

"

5/16

"-24
1

7/32

"

11/16

"
42°
Not Rated
Zinc-Plated Carbon Steel
000000000
0000

3/8

"-24
1

5/8

"

13/16

"

3/8

"-24
1

9/16

"

29/32

"
46°
Not Rated
Zinc-Plated Carbon Steel
000000000
00000

7/16

"-20
1

13/16

"

15/16

"

7/16

"-20
1

3/4

"
1

1/16

"
44°
Not Rated
Zinc-Plated Carbon Steel
000000000
00000

1/2

"-20
2

1/8

"
1

1/16

"

1/2

"-20
2"
1

1/8

"
48°
Not Rated
Zinc-Plated Carbon Steel
000000000
00000

5/8

"-18
2

1/2

"
1

3/8

"

5/8

"-18
2

1/2

"
1

1/2

"
52°
Not Rated
Zinc-Plated Carbon Steel
000000000
00000

3/4

"-16
2

7/8

"
1

9/16

"

3/4

"-16
3"
1

13/16

"
46°
Not Rated
Zinc-Plated Carbon Steel
000000000
00000

Ball Joint Linkages with Neoprene Rubber Seal

Right-Hand

Threaded Shank

10-32

7/8

"

7/16

"
10-32

7/8

"

7/16

"
35°
Not Rated
Zinc-Plated Carbon Steel
0000000
0000

1/4

"-28
1"

1/2

"

1/4

"-28
1"

9/16

"
35°
Not Rated
Zinc-Plated Carbon Steel
0000000
0000

5/16

"-24
1

1/8

"

9/16

"

5/16

"-24
1

3/16

"

11/16

"
35°
Not Rated
Zinc-Plated Carbon Steel
0000000
0000

3/8

"-24
1

3/8

"

3/4

"

3/8

"-24
1

9/16

"

7/8

"
35°
Not Rated
Zinc-Plated Carbon Steel
0000000
0000

7/16

"-20
1

15/16

"
1"

7/16

"-20
2"
1

1/8

"
35°
Not Rated
Zinc-Plated Carbon Steel
00000000
0000

1/2

"-20
1

15/16

"
1"

1/2

"-20
2"
1

1/8

"
35°
Not Rated
Zinc-Plated Carbon Steel
00000000
0000
M6 × 1 mm
25mm
13mm
M6 × 1 mm
26mm
14mm
35°
Not Rated
Zinc-Plated Carbon Steel
00000000
0000
M8 × 1.25 mm
28.5mm
14mm
M8 × 1.25 mm
31mm
17.5mm
35°
Not Rated
Zinc-Plated Carbon Steel
00000000
0000
M10 × 1.5 mm
35mm
19mm
M10 × 1.5 mm
40mm
22mm
35°
Not Rated
Zinc-Plated Carbon Steel
00000000
0000
M12 × 1.75 mm
49mm
25mm
M12 × 1.75 mm
51mm
28.5mm
35°
Not Rated
Zinc-Plated Carbon Steel
0000000
00000
10-32

7/8

"

7/16

"
10-32

7/8

"

7/16

"
35°
Not Rated
Zinc-Plated Carbon Steel
00000000
0000

1/4

"-28
1"

1/2

"

1/4

"-28
1"

9/16

"
35°
Not Rated
Zinc-Plated Carbon Steel
00000000
0000

5/16

"-24
1

1/8

"

9/16

"

5/16

"-24
1

3/16

"

11/16

"
35°
Not Rated
Zinc-Plated Carbon Steel
00000000
0000

3/8

"-24
1

3/8

"

3/4

"

3/8

"-24
1

9/16

"

7/8

"
35°
Not Rated
Zinc-Plated Carbon Steel
00000000
0000

7/16

"-20
1

15/16

"
1"

7/16

"-20
2"
1

1/8

"
35°
Not Rated
Zinc-Plated Carbon Steel
00000000
0000

1/2

"-20
1

15/16

"
1"

1/2

"-20
2"
1

1/8

"
35°
Not Rated
Zinc-Plated Carbon Steel
00000000
0000
M6 × 1 mm
25mm
13mm
M6 × 1 mm
26mm
14mm
35°
Not Rated
Zinc-Plated Carbon Steel
00000000
0000
M8 × 1.25 mm
28.5mm
14mm
M8 × 1.25 mm
31mm
17.5mm
35°
Not Rated
Zinc-Plated Carbon Steel
00000000
0000
M10 × 1.5 mm
35mm
19mm
M10 × 1.5 mm
40mm
22mm
35°
Not Rated
Zinc-Plated Carbon Steel
00000000
0000

Ball Joint Linkages with Blended Rubber Seal

Right-Hand

Threaded Shank

M5 × 0.8 mm
30mm
16mm
M5 × 0.8 mm
25mm
10mm
34°
260
Zinc
0000000
00000
M6 × 1 mm
30mm
16mm
M6 × 1 mm
25mm
10mm
34°
370
Zinc
0000000
00000
M8 × 1.25 mm
36mm
19mm
M8 × 1.25 mm
31.5mm
12.5mm
34°
980
Zinc
0000000
00000
M10 × 1.25 mm
43mm
23mm
M10 × 1.25 mm
37mm
17mm
34°
1,650
Zinc
0000000
00000
M10 × 1.5 mm
43mm
23mm
M10 × 1.5 mm
37mm
17mm
34°
1,650
Zinc
0000000
00000
M12 × 1.75 mm
50mm
27mm
M12 × 1.75 mm
50mm
20mm
34°
2,200
Zinc
0000000
00000
M5 × 0.8 mm
30mm
16mm
M5 × 0.8 mm
25mm
10mm
34°
260
Zinc
0000000
00000
M6 × 1 mm
30mm
16mm
M6 × 1 mm
25mm
10mm
34°
370
Zinc
0000000
00000
M8 × 1.25 mm
36mm
19mm
M8 × 1.25 mm
31.5mm
12.5mm
34°
980
Zinc
0000000
00000
M10 × 1.25 mm
43mm
23mm
M10 × 1.25 mm
37mm
17mm
34°
1,650
Zinc
0000000
00000
M10 × 1.5 mm
43mm
23mm
M10 × 1.5 mm
37mm
17mm
34°
1,650
Zinc
0000000
00000
M12 × 1.75 mm
50mm
27mm
M12 × 1.75 mm
50mm
20mm
34°
2,200
Zinc
0000000
00000

Left-Hand

Threaded Ball Stud

Ball Joint Linkages

Right-Hand

Threaded Shank

10-32
1

1/16

"

1/2

"
10-32
1

1/64

"

1/2

"
45°
Not Rated
Zinc-Plated Carbon Steel
000000000
0000

1/4

"-28
1

5/16

"

11/16

"

1/4

"-28
1

1/32

"

9/16

"
40°
Not Rated
Zinc-Plated Carbon Steel
000000000
0000

5/16

"-24
1

3/8

"

11/16

"

5/16

"-24
1

7/32

"

11/16

"
42°
Not Rated
Zinc-Plated Carbon Steel
000000000
0000

3/8

"-24
1

5/8

"

13/16

"

3/8

"-24
1

9/16

"

29/32

"
46°
Not Rated
Zinc-Plated Carbon Steel
000000000
00000

7/16

"-20
1

13/16

"

15/16

"

7/16

"-20
1

3/4

"
1

1/16

"
44°
Not Rated
Zinc-Plated Carbon Steel
000000000
00000

1/2

"-20
2

1/8

"
1

1/16

"

1/2

"-20
2"
1

1/8

"
48°
Not Rated
Zinc-Plated Carbon Steel
000000000
00000

5/8

"-18
2

1/2

"
1

3/8

"

5/8

"-18
2

1/2

"
1

1/2

"
52°
Not Rated
Zinc-Plated Carbon Steel
000000000
00000

3/4

"-16
2

7/8

"
1

9/16

"

3/4

"-16
3"
1

13/16

"
46°
Not Rated
Zinc-Plated Carbon Steel
000000000
00000
10-32
1

1/16

"

1/2

"
10-32
1

1/64

"

1/2

"
45°
Not Rated
Zinc-Plated Carbon Steel
000000000
0000

1/4

"-28
1

5/16

"

11/16

"

1/4

"-28
1

1/32

"

9/16

"
40°
Not Rated
Zinc-Plated Carbon Steel
000000000
0000

5/16

"-24
1

3/8

"

11/16

"

5/16

"-24
1

7/32

"

11/16

"
42°
Not Rated
Zinc-Plated Carbon Steel
000000000
0000

3/8

"-24
1

5/8

"

13/16

"

3/8

"-24
1

9/16

"

29/32

"
46°
Not Rated
Zinc-Plated Carbon Steel
000000000
00000

7/16

"-20
1

13/16

"

15/16

"

7/16

"-20
1

3/4

"
1

1/16

"
44°
Not Rated
Zinc-Plated Carbon Steel
000000000
00000

1/2

"-20
2

1/8

"
1

1/16

"

1/2

"-20
2"
1

1/8

"
48°
Not Rated
Zinc-Plated Carbon Steel
000000000
00000

5/8

"-18
2

1/2

"
1

3/8

"

5/8

"-18
2

1/2

"
1

1/2

"
52°
Not Rated
Zinc-Plated Carbon Steel
000000000
00000

3/4

"-16
2

7/8

"
1

9/16

"

3/4

"-16
3"
1

13/16

"
46°
Not Rated
Zinc-Plated Carbon Steel
000000000
00000