Plastic Friction Hinges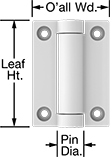 White Plastic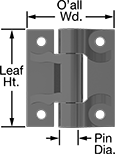 Black Plastic
Plastic hinges are a lightweight alternative to metal hinges and provide smooth, silent operation. Constant resistance through the full range of motion holds lids, panels, and doors at any angle. All of these hinges have a nonremoveable pin to deter tampering.
Acetal hinges are more moisture resistant than nylon.
For technical drawings and 3-D models, click on a part number.
Ht.

Wd.

Ht.

Wd.

O'all




Wd.

Leaf


Thick.

Range
of
Motion

Torque,




in.-lbs.

Pin


Dia.

Pin
Material

Max.




Temp.,




°F

Mounting
Fasteners
Included

No.

of
Mounting
Holes
Mounting
Hole
Style
Mounting
Screw
Size

Each

White Acetal Plastic

13/16

"

1/2

"

13/16

"

1/2

"
1"
0.079"
260°
0.6

1/8

"
304 Stainless Steel
Not Rated
No
4
Countersunk
M2

00000000
00000
1

3/16

"

1/2

"
1

3/16

"

1/2

"
1"
0.079"
260°
1.2

1/8

"
304 Stainless Steel
Not Rated
No
4
Countersunk
M3

00000000
0000
1

9/16

"

9/16

"
1

9/16

"

9/16

"
1

1/8

"
0.079"
255°
2

1/8

"
304 Stainless Steel
Not Rated
No
4
Countersunk
M3

00000000
0000
2"

11/16

"
2"

11/16

"
1

7/16

"
0.256"
270°
1.2

1/2

"
Acetal Plastic
Not Rated
No
4
Counterbored
M3

00000000
00000
2"

11/16

"
2"

11/16

"
1

7/16

"
0.256"
270°
3

1/2

"
Acetal Plastic
Not Rated
No
4
Counterbored
M3

00000000
00000

Black Acetal Plastic

13/16

"

1/2

"

13/16

"

1/2

"
1"
0.063"
260°
0.6

1/8

"
304 Stainless Steel
Not Rated
No
4
Countersunk
M2

000000
0000
1

3/16

"

1/2

"
1

3/16

"

1/2

"
1"
0.063"
260°
1.2

1/8

"
304 Stainless Steel
Not Rated
No
4
Countersunk
M3

000000
0000
1

9/16

"

9/16

"
1

9/16

"

9/16

"
1

1/8

"
0.125"
255°
2

1/8

"
304 Stainless Steel
Not Rated
No
4
Countersunk
M3

000000
0000
2"

11/16

"
2"

11/16

"
1

7/16

"
0.256"
270°
1.2

1/2

"
Acetal Plastic
Not Rated
No
4
Counterbored
M3

00000000
00000
2"

11/16

"
2"

11/16

"
1

7/16

"
0.256"
270°
3

1/2

"
Acetal Plastic
Not Rated
No
4
Counterbored
M3

00000000
00000

Black Nylon Plastic

1

11/16

"

3/4

"
1

11/16

"

3/4

"
1

1/2

"
0.236"
270°
3.5

3/8

"
Steel
140°
No
4
Straight
M4

00000000
00000
1

11/16

"

3/4

"
1

11/16

"

3/4

"
1

1/2

"
0.236"
270°
7

3/8

"
Steel
140°
No
4
Straight
M4

0000000
00000
1

11/16

"

3/4

"
1

11/16

"

3/4

"
1

1/2

"
0.236"
270°
10

3/8

"
Steel
140°
No
4
Straight
M4

00000000
00000
1

11/16

"

3/4

"
1

11/16

"

3/4

"
1

1/2

"
0.236"
270°
12

3/8

"
Steel
140°
No
4
Straight
M4

00000000
00000
2

1/2

"
1

1/8

"
2

1/2

"
1

1/8

"
2

1/4

"
0.236"
270°
12

5/8

"
Steel
140°
No
4
Straight
M6

00000000
00000
2

1/2

"
1

1/8

"
2

1/2

"
1

1/8

"
2

1/4

"
0.236"
270°
15

5/8

"
Steel
140°
No
4
Straight
M6

00000000
00000
2

1/2

"
1

1/8

"
2

1/2

"
1

1/8

"
2

1/4

"
0.236"
270°
18

5/8

"
Steel
140°
No
4
Straight
M6

0000000
00000
2

1/2

"
1

1/8

"
2

1/2

"
1

1/8

"
2

1/4

"
0.236"
270°
20

5/8

"
Steel
140°
No
4
Straight
M6

00000000
00000
2

1/2

"
1

1/8

"
2

1/2

"
1

1/8

"
2

1/4

"
0.236"
270°
25

5/8

"
Steel
140°
No
4
Straight
M6

00000000
00000
2

1/2

"
1

1/8

"
2

1/2

"
1

1/8

"
2

1/4

"
0.236"
270°
30

5/8

"
Steel
140°
No
4
Straight
M6

000000
00000
2

1/2

"
1

1/8

"
2

1/2

"
1

1/8

"
2

1/4

"
0.236"
270°
35

5/8

"
Steel
140°
No
4
Straight
M6

00000000
00000
2

1/2

"
1

1/8

"
2

1/2

"
1

1/8

"
2

1/4

"
0.236"
270°
40

5/8

"
Steel
140°
No
4
Straight
M6

000000
00000
2

1/2

"
1

1/8

"
2

1/2

"
1

1/8

"
2

1/4

"
0.236"
270°
45

5/8

"
Steel
140°
No
4
Straight
M6

00000000
00000
2

1/2

"
1

1/8

"
2

1/2

"
1

1/8

"
2

1/4

"
0.236"
270°
50

5/8

"
Steel
140°
No
4
Straight
M6

000000
00000
3

5/16

"
1

1/8

"
3

5/16

"
1

1/8

"
2

1/4

"
0.315"
270°
15

5/8

"
Steel
140°
No
4
Straight
M6

00000000
00000
3

5/16

"
1

1/8

"
3

5/16

"
1

1/8

"
2

1/4

"
0.315"
270°
40

5/8

"
Steel
140°
No
4
Straight
M6

00000000
00000
3

5/16

"
1

1/8

"
3

5/16

"
1

1/8

"
2

1/4

"
0.315"
270°
70

5/8

"
Steel
140°
No
4
Straight
M6

00000000
00000