Semi-Concealed

Cabinet Hinges
Style 5 Shown Closed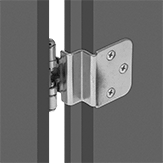 Style 5 Shown Open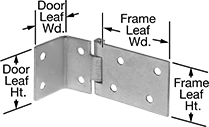 1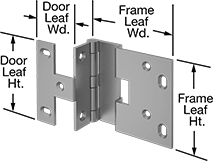 2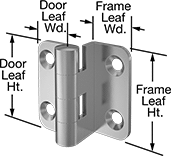 3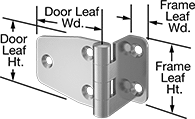 4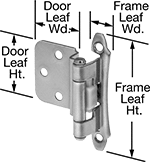 5

Overlay Door

Inset Door
When the cabinet door is closed, a portion of the frame leaf is exposed and the entire door leaf is hidden. All of these hinges have a nonremovable pin to deter tampering. Hold-closed hinges have spring tension that pulls the door closed when it's open less than 35° and keeps it closed without a catch or latch.
Brass- and chrome-plated steel hinges have mild corrosion resistance.
304 stainless steel hinges are more corrosion resistant than brass- and chrome-plated steel. They also have good chemical resistance.
Hinges for overlay doors are for doors that cover their frame.
Hinges for inset doors are for doors that are flush with their frame when the door is closed.
For technical drawings and 3-D models, click on a part number.
For
Door


Thick.

Ht.

Wd.

Ht.

Wd.

Leaf


Thick.

Range
of
Motion

Capacity,




lbs.

Pin


Dia.

Pin
Material
Mounting
Fasteners
Included

No.

of
Mounting
Holes
Mounting
Hole
Style
Mounting
Screw
Size

Pair

For Overlay

Door—

Standard

1

3/4

"
1

1/2

"
1

5/16

"
1

1/2

"
2

11/32

"
0.080"
270°
15

1/8

"
Steel
Yes
8
Straight
No. 7

0000000
000000
Each
2

3/4

"
2

3/4

"
1

1/2

"
2

3/4

"
3

3/32

"
0.095"
270°
Not Rated

3/16

"
Steel
No
9
Straight
No. 8

0000000
00000

304 Stainless

Steel—

Polished

3

3/8

"
1

1/2

"

11/16

"
1

1/2

"

13/16

"
0.063"
180°
Not Rated

3/16

"
304 Stainless Steel
No
4
Straight
No. 8

0000000
0000
4

3/8

"
1

7/16

"
2"
1

7/16

"

3/4

"
0.063"
180°
Not Rated

3/16

"
304 Stainless Steel
No
5
Straight
No. 8

0000000
0000
4

3/4

"
1

1/2

"
1

15/16

"
1

1/2

"

19/32

"
0.063"
180°
Not Rated

3/16

"
304 Stainless Steel
No
5
Straight
No. 8

0000000
00000
Pair

For Overlay

Door—

Hold-Closed

5

3/4

"
1

5/8

"
1

1/4

"
2

3/4

"

7/16

"
0.063"
180°
30

11/64

"
Steel
Yes
5
Straight
No. 6

0000000
0000

Brass-Plated

Steel—

Polished

5

3/4

"
1

5/8

"
1

1/4

"
2

3/4

"

7/16

"
0.063"
180°
30

11/64

"
Steel
Yes
5
Straight
No. 6

0000000
0000

For Inset

Door—

Hold-Closed

5

3/4

"
1

7/16

"
1

1/16

"
2

3/4

"

15/32

"
0.063"
180°
30

11/64

"
Steel
Yes
5
Straight
No. 5

0000000
0000

Brass-Plated

Steel—

Polished

5

3/4

"
1

7/16

"
1

1/16

"
2

3/4

"

15/32

"
0.063"
180°
30

11/64

"
Steel
Yes
5
Straight
No. 6

0000000
0000

Chrome-Plated

Steel—

Polished

5

3/4

"
1

1/2

"
1

1/8

"
2

3/4

"

15/32

"
0.063"
180°
30

11/64

"
Steel
Yes
5
Straight
No. 5

0000000
00000