Close
About
Loc-Line

and

Snap-Loc

Coolant Hose


Assemble and disassemble Loc-Line and Snap-Loc coolant hose by snapping components together or pulling them apart. Assembly and separation tools (sold separately) are recommended.
To ensure compatibility, select the color and trade size that match your current system. A system's trade size is equal to the ID of its hose.
Installation Tools for
Push-On

Barbed Hose Fittings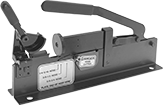 This tool allows you to connect large quantities of barbed fittings to push-on hose. Use the built-in cutter to squarely cut push-on hose without fraying. Next, lubricate either the push-on hose, fitting or both. Then, clamp the hose into the tool's vise and apply light pressure on the handle to drive into the fitting.
For Hose
ID Range

Lg.

Ht.

Dp.

Dia.

No.


of
Mounting
Fasteners Included
Each

1/4

" to

3/4

"
13

1/2

"
7"
2

3/8

"

7/16

"
4
No
00000000
0000000
Tools for
Loc-Line

Coolant Hose

Use with Loc-Line hose to assemble and disassemble components. Tools are compatible with Loc-Line and Acid-Resistant Loc-Line components. Match the trade size to your system's hose ID.
For technical drawings and 3-D models, click on a part number.