Vehicle Seats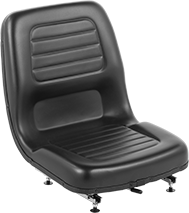 D
Replace worn out seats on equipment such as forklifts. Seats adjust front to back.
Note: Seats are not intended for highway-use vehicles.
Add a seat belt (sold separately) to these seats for a safer ride. Seats for threaded and unthreaded hole seat belt attachment do not require a mounting bar or bracket.
Styles A-D can be used in any equipment that has the same center-to-center width mounting stud pattern.
For technical drawings and 3-D models, click on a part number.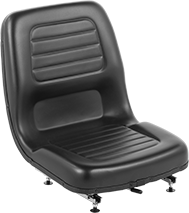 D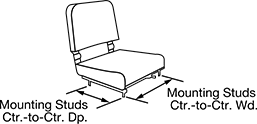 Ctr.-to-Ctr.


Mounting Stud

Style

Wd.

Dp.

Ht.

Wd.

Dp.

Material

Wd.

Dp.

Ht.

Wd.

Adjustability
Seat Belt
Attachment
Type

Cap.,




lbs.

Each
D
8", 9

1/2

", 11

1/4

"
11"
19

1/2

"
18"
21

1/4

"
Vinyl Plastic
18"
16

1/2

"
19

1/2

"
18"
Fixed
Threaded Hole
250
0000000
0000000