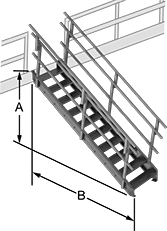 Mount these stairs to an elevated landing for easy access. They have adjustable mounting brackets to accommodate slight differences in landing heights. Steps are perforated to provide slip resistance that's easy on your shoes.
Stairs that meet OSHA standards are intended for use in private facilities, such as factories and other industrial settings. Set at a steeper angle than IBC (International Building Code) stairs, they require less floor space.
Stairs that meet IBC standards are used in commercial buildings that may be accessed by the general public. With larger step dimensions and a shallower angle than OSHA stairs, they are easier to climb. In addition, the vertical space between steps is covered to prevent debris from falling through.
Note: Stairs meet OSHA or IBC dimensional standards. Users are responsible for checking local, state, and federal codes, including OSHA or IBC, for safe installation and operating practices.
Landing


Ht.




(A)

Wd.

Dp.




(B)

Climbing
Angle

No.


of
Steps

Dp.

Tread

Cap.,




lbs.

Ht.

Color
Mounting
Hardware
Included
Assembled
or
Unassembled
Specifications
Met
Each

Galvanized Steel

3'2" to 3'8"
43"
3'3" to 3'7"
35°-42°
4
9

1/2

"
Perforated
1,800
42"
Yellow
No
Unassembled
Cal/OSHA Compliant Title 8 Section 3214, Cal/OSHA Compliant Title 8 Section 3234, OSHA Compliant 29 CFR 1910.25, OSHA Compliant 29 CFR 1910.29
0000000
000000000
3'11" to 4'5"
43"
4'0" to 4'5"
35°-42°
5
9

1/2

"
Perforated
1,800
42"
Yellow
No
Unassembled
Cal/OSHA Compliant Title 8 Section 3214, Cal/OSHA Compliant Title 8 Section 3234, OSHA Compliant 29 CFR 1910.25, OSHA Compliant 29 CFR 1910.29
0000000
00000000
4'6" to 5'1"
43"
5'0" to 5'4"
35°-42°
6
9

1/2

"
Perforated
1,800
42"
Yellow
No
Unassembled
Cal/OSHA Compliant Title 8 Section 3214, Cal/OSHA Compliant Title 8 Section 3234, OSHA Compliant 29 CFR 1910.25, OSHA Compliant 29 CFR 1910.29
0000000
00000000
5'2" to 5'9"
43"
5'9" to 6'3"
35°-42°
7
9

1/2

"
Perforated
1,800
42"
Yellow
No
Unassembled
Cal/OSHA Compliant Title 8 Section 3214, Cal/OSHA Compliant Title 8 Section 3234, OSHA Compliant 29 CFR 1910.25, OSHA Compliant 29 CFR 1910.29
0000000
00000000
5'10" to 6'6"
43"
6'7" to 7'1"
35°-42°
8
9

1/2

"
Perforated
1,800
42"
Yellow
No
Unassembled
Cal/OSHA Compliant Title 8 Section 3214, Cal/OSHA Compliant Title 8 Section 3234, OSHA Compliant 29 CFR 1910.25, OSHA Compliant 29 CFR 1910.29
0000000
00000000
6'7" to 7'2"
43"
7'6" to 7'11"
35°-42°
9
9

1/2

"
Perforated
1,800
42"
Yellow
No
Unassembled
Cal/OSHA Compliant Title 8 Section 3214, Cal/OSHA Compliant Title 8 Section 3234, OSHA Compliant 29 CFR 1910.25, OSHA Compliant 29 CFR 1910.29
0000000
00000000
7'3" to 7'11"
43"
8'3" to 8'9"
35°-42°
10
9

1/2

"
Perforated
1,800
42"
Yellow
No
Unassembled
Cal/OSHA Compliant Title 8 Section 3214, Cal/OSHA Compliant Title 8 Section 3234, OSHA Compliant 29 CFR 1910.25, OSHA Compliant 29 CFR 1910.29
0000000
00000000
8'0" to 8'8"
43"
9'1" to 9'7"
35°-42°
11
9

1/2

"
Perforated
1,800
42"
Yellow
No
Unassembled
Cal/OSHA Compliant Title 8 Section 3214, Cal/OSHA Compliant Title 8 Section 3234, OSHA Compliant 29 CFR 1910.25, OSHA Compliant 29 CFR 1910.29
0000000
00000000
8'9" to 9'5"
43"
9'11" to 10'5"
35°-42°
12
9

1/2

"
Perforated
1,800
42"
Yellow
No
Unassembled
Cal/OSHA Compliant Title 8 Section 3214, Cal/OSHA Compliant Title 8 Section 3234, OSHA Compliant 29 CFR 1910.25, OSHA Compliant 29 CFR 1910.29
0000000
00000000
9'6" to 10'10"
43"
11'7" to 12'6"
35°-42°
14
9

1/2

"
Perforated
1,800
42"
Yellow
No
Unassembled
Cal/OSHA Compliant Title 8 Section 3214, Cal/OSHA Compliant Title 8 Section 3234, OSHA Compliant 29 CFR 1910.25, OSHA Compliant 29 CFR 1910.29
0000000
00000000
3'0" to 3'6"
47"
4'8" to 4'11"
28°-33°
5
11"
Perforated
1,800
43

1/2

"
Yellow
No
Unassembled
IBC Standards
0000000
00000000
3'2" to 3'8"
49"
3'3" to 3'7"
35°-42°
4
9

1/2

"
Perforated
1,800
42"
Yellow
No
Unassembled
Cal/OSHA Compliant Title 8 Section 3214, Cal/OSHA Compliant Title 8 Section 3234, OSHA Compliant 29 CFR 1910.25, OSHA Compliant 29 CFR 1910.29
0000000
00000000
3'7" to 4'0"
47"
5'7" to 5'11"
28°-33°
6
11"
Perforated
1,800
43

1/2

"
Yellow
No
Unassembled
IBC Standards
0000000
00000000
3'11" to 4'5"
49"
4'0" to 4'5"
35°-42°
5
9

1/2

"
Perforated
1,800
42"
Yellow
No
Unassembled
Cal/OSHA Compliant Title 8 Section 3214, Cal/OSHA Compliant Title 8 Section 3234, OSHA Compliant 29 CFR 1910.25, OSHA Compliant 29 CFR 1910.29
0000000
00000000
4'1" to 4'7"
47"
6'6" to 6'10"
28°-33°
7
11"
Perforated
1,800
43

1/2

"
Yellow
No
Unassembled
IBC Standards
0000000
00000000
4'8" to 5'1"
47"
7'5" to 7'10"
28°-33°
8
11"
Perforated
1,800
43

1/2

"
Yellow
No
Unassembled
IBC Standards
0000000
00000000
5'2" to 5'9"
49"
5'9" to 6'3"
35°-42°
7
9

1/2

"
Perforated
1,800
42"
Yellow
No
Unassembled
Cal/OSHA Compliant Title 8 Section 3214, Cal/OSHA Compliant Title 8 Section 3234, OSHA Compliant 29 CFR 1910.25, OSHA Compliant 29 CFR 1910.29
0000000
00000000
5'2" to 5'10"
47"
8'4" to 8'10"
28°-33°
9
11"
Perforated
1,800
43

1/2

"
Yellow
No
Unassembled
IBC Standards
0000000
00000000
6'0" to 7'0"
47"
10'1" to 10'9"
28°-33°
11
11"
Perforated
1,800
43

1/2

"
Yellow
No
Unassembled
IBC Standards
0000000
00000000
7'1" to 8'2"
47"
12'0" to 12'9"
28°-33°
13
11"
Perforated
1,800
43

1/2

"
Yellow
No
Unassembled
IBC Standards
0000000
00000000
8'0" to 8'8"
49"
9'1" to 9'7"
35°-42°
11
9

1/2

"
Perforated
1,800
42"
Yellow
No
Unassembled
Cal/OSHA Compliant Title 8 Section 3214, Cal/OSHA Compliant Title 8 Section 3234, OSHA Compliant 29 CFR 1910.25, OSHA Compliant 29 CFR 1910.29
0000000
00000000
9'6" to 10'10"
49"
11'7" to 12'6"
35°-42°
14
9

1/2

"
Perforated
1,800
42"
Yellow
No
Unassembled
Cal/OSHA Compliant Title 8 Section 3214, Cal/OSHA Compliant Title 8 Section 3234, OSHA Compliant 29 CFR 1910.25, OSHA Compliant 29 CFR 1910.29
0000000
00000000