Studs dig in and hold tight on icy surfaces.
Ice grippers with heel coverage leave the front of shoes bare, so users can climb ladders safely and operate machinery without damaging the pedals. The adjustable strap secures these grippers to shoes. They have four steel studs on each foot.
Ice grippers with full shoe coverage have studs on the toe and heel to give wearers complete traction for walking.
Slip-on grippers are made of flexible rubber or plastic that stretches to fit over shoes. They have six steel studs or eight tungsten carbide studs on each foot. Grippers with tungsten carbide studs are more durable and harder to dull than those with steel studs. They also give you more stability because they have a greater number of studs. If one of the studs breaks or goes missing, there's a replacement stud built into the upper toe area for a quick swap. To help you handle thick snow conditions, these grippers have treaded soles for extra traction. They remain elastic even in cold temperatures, so you can stretch them over shoes using their pull tabs without cracking or breaking them.
Grippers with hook and loop straps provide a snug fit over shoes or bulky boots. They have 15 steel studs on each foot to provide better traction than slip-on grippers. Studs are replaceable.
When ordering ice grippers, order your normal shoe size.
Full-Shoe Coverage—Slip On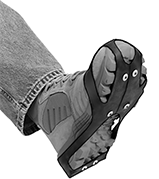 Slip-On
Full-Shoe
Coverage with Steel Studs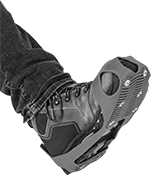 Slip-On
Full-Shoe
Coverage with Tungsten Carbide Studs
For

Men's


Shoe Size
For

Women's


Shoe Size
Material
Number
of Studs
Minimum


Temperature,

°F

Color
Pair

Steel Studs

7

1/2

9

1/2

Rubber
6
Not Rated
Black
0000000
000000
8-10

1/2

10-12

1/2

Rubber
6
Not Rated
Black
0000000
00000
11
13
Rubber
6
Not Rated
Black
0000000
00000

Tungsten Carbide Studs

2

1/2

-4

1/2

4

1/2

-6

1/2

Plastic
8
-20°
Gray
00000000
00000
5-6

1/2

7-8

1/2

Plastic
8
-20°
Gray
00000000
00000
7-8

1/2

9-10

1/2

Plastic
8
-20°
Gray
00000000
00000
9-10

1/2

11-12

1/2

Plastic
8
-20°
Gray
00000000
00000
11-13

1/2

13-15

1/2

Plastic
8
-20°
Gray
00000000
00000
14
16
Plastic
8
-20°
Gray
00000000
00000
| | | | |
| --- | --- | --- | --- |
| Replacement Tungsten Carbide Studs (Pkg. of 6) | 00000000 | Pkg. | 00000 |
Full-Shoe Coverage—Hook and Loop Straps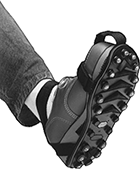 Full-Shoe
Coverage with Hook and Loop Straps
For

Men's


Shoe Size
For

Women's


Shoe Size
Material
Number
of Studs
Minimum


Temperature,

°F

Color
Pair

Steel Studs

5-6
7-8
Rubber
15
-45°
Black
00000000
000000
6

1/2

-

7/12

8

1/2

-9

1/2

Rubber
15
-45°
Black
00000000
00000
8-10
10-12
Rubber
15
-45°
Black
00000000
00000
10

1/2

-12
12

1/2

-14
Rubber
15
-45°
Black
00000000
00000
12

1/2

-14
14

1/2

-16
Rubber
15
-45°
Black
00000000
00000
| | | | |
| --- | --- | --- | --- |
| Replacement Steel Studs (Pkg. of 30) | 0000000 | Pkg. | 000000 |