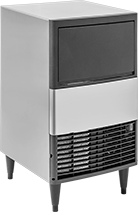 A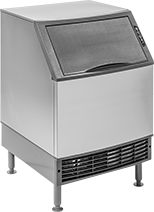 B
C
Produce 57 to 470 lbs. of ice per day with these ice makers. They stop making ice automatically when the storage bin is full. All have a 3/8 NPT female water inlet connection and a 1/2 NPT female drain connection. Machines are UL listed and meet NSF/ANSI 12 standards for autmoatic ice making equipment.
Note: Regular maintenance is required so machines run efficiently. Add ice maker cleaner (sold separately) and run the machine's cleaning cycle to remove lime scale and mineral deposits from components such as the evaporator and water lines.
Style A and B are compact to fit under most counters. They have a front vent, so they don't require any clearance for the top, sides, and back. Style A have leveling feet to compensate for uneven floors. Style B have a removable storage bin, allowing easy access to refrigeration components for cleaning and maintenance.
Style C have a digital display that allows for automatic programming: program the machine to produce ice at set times and to turn off in between cycles to save energy. Install with 5" clearance for the back and 12" clearance for the top and sides.
Style
Ice
Shape
Bin


Cap.,




lbs.

Wd.

Dp.

Ht.

Exterior
Material
Gender
Thread
Type
Pipe
Size

Gender
Thread
Type
Pipe
Size

Electrical
Connection
Type
Specifications
Met
Features
Each

57

lbs.

of Ice Produced per Day

A
Cube
30
19

3/4

"
22

1/2

"
36"
Stainless Steel
Female
NPT

3/8

Female
NPT

1/2

Plug
NSF/ANSI 12, UL Listed
Automatic Shut-Off, Leveling Feet, Molded-In Storage Bin
0000000
000000000

220

lbs.

of Ice Produced per Day

B
Cube
90
26"
28

1/2

"
38

1/2

"
Stainless Steel
Female
NPT

3/8

Female
NPT

1/2

Plug
NSF/ANSI 12, UL Listed
Automatic Shut-Off, Removable Storage Bin
0000000
00000000

470

lbs.

of Ice Produced per Day

C
Cube
365
30"
34"
59

1/2

"
Stainless Steel
Female
NPT

3/8

Female
NPT

1/2

Hardwire
NSF/ANSI 12, UL Listed
Automatic Shut-Off, Digital Display
0000000
00000000