Impression Foam

Color:

Pink
Temperature

Range:

0° to 100° F

Cell

Type:

Closed

For Use

Outdoors:

No

Flexibility:

Semi-Rigid

Density:

2.

6

lbs./cu.

ft.

Pressure to Compress

25%:

2.

8 psi

(Ultra

Soft)

Tensile Strength

Rating:

Not Rated

Oil-

Resistance

Rating:

Not Rated
Stiff yet moldable, this foam takes the shape of any object that's pressed into it. Often used to make molds, these phenolic foam sheets are also used for packaging when you need to keep uniquely shaped items in place. Foam has closed-cell construction, which restricts water, air, and gases from being absorbed. It is furnished in a package of two sheets.
Ultra-Conformable

Polyurethane Foam Sheets and Strips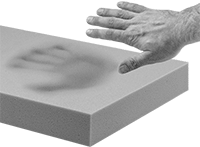 Commonly called memory foam and Confor, these sheets and strips have the best cushioning qualities of all the foam we offer. They take several seconds to recover from compression, but maintain their resiliency over time. These sheets and strips are widely used in packaging applications to absorb shock and damp vibration; they are also found in seat cushions. Foam has open-cell construction, which allows water, air, and gases to be absorbed.
For technical drawings and 3-D models, click on a part number.
Sheets with Smooth Texture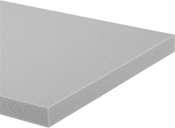 Color:

Yellow,

Pink,

Blue,

or Green
Temperature

Range:

50° to 120° F

Cell

Type:

Open

For Use

Outdoors:

No

Density:

6

lbs./cu.

ft.

Pressure to Compress

25%:

Yellow:

0.

2 psi

(Ultra

Soft);

Pink:

0.

4 psi

(Ultra

Soft);

Blue

0.

6 psi

(Ultra

Soft);

Green:

0.

8 psi

(Ultra

Soft)

Tensile Strength

Rating:

Fair

Oil-

Resistance

Rating:

Not Rated
Thick.

Thick.

Tolerance
Choose a Color
Each
Each
Each

1/4

"
-0.063" to 0.063"
Yellow, Pink, Blue, Green
00000000
00000
00000000
000000
00000000
000000

1/2

"
-0.063" to 0.063"
Yellow, Pink, Blue, Green
00000000
00000
00000000
00000
00000000
00000

3/4

"
-0.063" to 0.063"
Yellow, Pink, Blue, Green
00000000
00000
00000000
00000
00000000
00000
1"
-0.063" to 0.063"
Yellow, Pink, Blue, Green
00000000
00000
00000000
00000
00000000
00000
2"
-0.063" to 0.063"
Yellow, Pink, Blue, Green
00000000
00000
00000000
00000
00000000
000000