Lifting Levers for Mitutoyo
Plunger-Style

Variance Indicators

Remove the spindle cap on your Mitutoyo indicator and install a lever for easier lifting of the indicator spindle.
For technical drawings and 3-D models, click on a part number.
Lifting Cords for Mitutoyo Electronic
Plunger-Style

Variance Indicators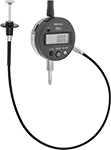 Shown Installed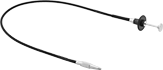 Lift the spindle on a Mitutoyo electronic indicator without having to touch the indicator itself.
Lg.

Manufacturer
Model Number
Each
12"
21JZA295
00000000
000000