Casting Metals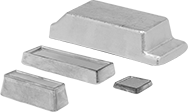 Melt and pour these alloys into molds to create metal parts and prototypes.
Bismuth and indium alloys expand slightly as they solidify, pushing into the crevices of a mold to produce detailed replicas. These alloys are useful for repairing dies, creating fusible links, and holding delicate parts for machining. Indium alloys have a low melting temperature so they can be cast in molds made from glass, quartz, mica, and ceramic.
Lead can be used for caulking, castings, and hot-dipped coatings.
Lead-base babbitt is a soft alloy. Use it to cast light-load bearings. It has superior antifriction properties.
Lead-base coppered babbitt is able to withstand shock and vibration and requires less lubrication than other types of babbitt. Use it to cast bearings for low-speed, heavy-load applications.
Lead hammer metal is commonly used to cast nonmarring hammer heads. This ductile material is hard and won't chip.
Lead-free pewter alloy can be used as an alternative to lead. This alloy has less copper than standard pewter, which makes it easier to pour when melted.
Tin-base babbitt is used to cast bearings for high-speed, high-wear applications and can withstand heavy, sustained loads. It has a higher melting temperature than lead-base babbitt.
Zinc alloy is nonshrinking and corrosion resistant. Parts cast from this material are easy to machine.
Silicon-bronze alloy is often used to cast gears, propellers, bells, and plaques. It renders an excellent surface finish.