High-Vacuum

Inline Filters
Capture oil, oil vapor, and other contaminants from your pump to prevent them from spreading into your high-vacuum system with these filters. When it's time to replace the filter element, you don't need tools to access it; undo the quick-release clamp to open the filter body. Filters have a drain port to remove collected oil.
Filters with quick-clamp connections (also known as KF, NW, and QF fittings) require a quick clamp and a ring (both sold separately) for each connection.
Filters with claw-clamp connections (also known as ISO-K fittings) will connect to larger components than filters with quick-clamp connections. Use four claw clamps and a ring (all sold separately) to secure each connection. Double-claw clamps attach to the grooves on the fittings. Single-claw clamps have a clamp on one end and an exposed bolt on the other. Thread the bolt-end directly into the body of pumps, valves, or other high-vacuum components.
For technical drawings and 3-D models, click on a part number.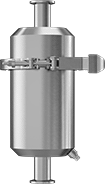 High-Vacuum


Flange
Size
Flange
OD
For
Tube
OD

Max.


Flow
Rate
High Vacuum
Connection
Type

Max.


Vacuum

Max.




Temp.,




°F

Lg.

Dia.

Removes Particle
Size Down


To,

microns
Each
Each

Quick-Clamp

Connection—

304 Stainless Steel Housing

16
1.18"

3/4

"
50 scfm @ 14.7 psi
ISO-KF
1 × 10 -3 torr @ 72° F
300°
11

1/4

"
4"
0.2
0000000
0000000
0000000
000000
25
1.57"
1"
50 scfm @ 14.7 psi
ISO-KF
1 × 10 -3 torr @ 72° F
300°
11

1/4

"
4"
0.2
0000000
000000
0000000
00000
40
2.16"
1

1/2

"
100 scfm @ 14.7 psi
ISO-KF
1 × 10 -3 torr @ 72° F
300°
11

1/4

"
6

1/4

"
0.2
0000000
000000
0000000
000000
50
2.95"
2"
100 scfm @ 14.7 psi
ISO-KF
1 × 10 -3 torr @ 72° F
300°
11

1/4

"
6

1/4

"
0.2
0000000
000000
0000000
000000
50
2.95"
2"
200 scfm @ 14.7 psi
ISO-KF
1 × 10 -3 torr @ 72° F
300°
11

1/2

"
7

7/8

"
0.2
0000000
00000000
0000000
000000

Claw-Clamp

Connection—

304 Stainless Steel Housing

63
3.74"
2

1/2

"
200 scfm @ 14.7 psi
ISO-K
1 × 10 -3 torr @ 72° F
300°
11

1/2

"
7

7/8

"
0.2
0000000
00000000
0000000
000000

Clamp with Wing Nut


For


High-Vacuum


Flange Size
For
Flange
OD
For
Tube
OD
High Vacuum
Connection
Type
Material

Max.


Vacuum
Each

Quick-Clamp

Connection—

Clamp with Wing Nut

10, 16
1.18"

1/2

",

3/4

"
ISO-KF
Aluminum
1 × 10 -7 torr @ 72° F
00000000
00000
25
1.57"
1"
ISO-KF
Aluminum
1 × 10 -7 torr @ 72° F
0000000
00000
40
2.16"
1

1/2

"
ISO-KF
Aluminum
1 × 10 -7 torr @ 72° F
0000000
00000
50
2.95"
2"
ISO-KF
Aluminum
1 × 10 -7 torr @ 72° F
0000000
00000

Claw-Clamp

Connection—

Double-Claw

Clamp with Bolt

63, 80, 100
3.74", 4.33", 5.12"
2

1/2

", 3", 4"
ISO-K
Aluminum
1 × 10 -9 torr @ 72° F
0000000
0000

Claw-Clamp

Connection—

Single-Claw

Clamp with Bolt

63, 80, 100
3.74", 4.33", 5.12"
2

1/2

", 3", 4"
ISO-K
Aluminum
1 × 10 -9 torr @ 72° F
0000000
0000

Ring
For


High-Vacuum


Flange Size
For
Flange
OD
For
Tube
OD
High Vacuum
Connection
Type

O-Ring

Inner
Ring

Max.


Vacuum

Max.




Temp.,




°F

Each
16
1.18"

3/4

"
ISO-KF
Fluoroelastomer Rubber
304 Stainless Steel
1 × 10 -7 torr @ 72° F
300°
00000000
00000
25
1.57"
1"
ISO-KF
Fluoroelastomer Rubber
304 Stainless Steel
1 × 10 -7 torr @ 72° F
300°
0000000
00000
40
2.16"
1

1/2

"
ISO-KF
Fluoroelastomer Rubber
304 Stainless Steel
1 × 10 -7 torr @ 72° F
300°
0000000
00000
50
2.95"
2"
ISO-KF
Fluoroelastomer Rubber
304 Stainless Steel
1 × 10 -7 torr @ 72° F
300°
0000000
00000
63
3.74"
2

1/2

"
ISO-K
Viton® Fluoroelastomer Rubber
304 Stainless Steel
1 × 10 -9 torr @ 72° F
400°
0000000
00000