Inner Tubes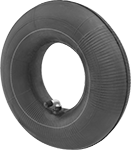 Parallel Stem

Angled Stem

Straight Stem
Pair these inner tubes with a matching tire for a smooth ride.
Tire Patch Kits

For Inner
Tube Tire Style
Temporarily seal a leaking tire.
Adhesive-back patches expand and contract with the inner tube.
Parts and Accessories for Cycles
Keep cycles up and running with repair parts or add accessories like a horn or basket.
Also Available: Accessories and parts not listed. Please ask for 2701T888 and specify manufacturer part number.