Container Type

Container Type
Maximum Temperature

Maximum Temperature
Minimum Temperature

Minimum Temperature
Lubricant Type

Lubricant Type
DFARS (Defense Acquisition Regulations Supplement)

DFARS

(Defense

Acquisition

Regulations

Supplement)
RoHS (Restriction of Hazardous Substances)

RoHS

(Restriction

of
Hazardous

Substances)
Warning: Products have one, but not necessarily all, of the selected characteristics.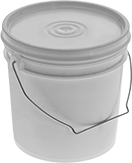 These lubricants go on wet for easy application. Once dry, they form a nonstick film that won't attract dust. Use them for general purpose lubricating in most applications.
Lubricants with boron nitride resist corrosion from salt water and won't wash off. Lubricants with ceramic are often used in extreme-temperature applications, such as welding, metal processing, and glassmaking. Dilute 1-gallon pail with water before using.