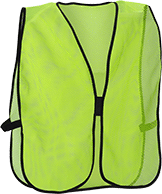 Not ANSI
Rated
(Expandable)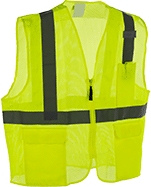 ANSI Class 2 with Single Stripe
(Standard)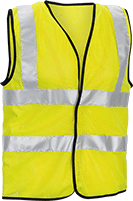 ANSI Class 2 with Double Stripe
(Standard)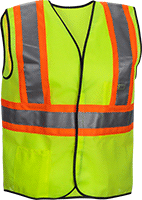 ANSI Class 2 with
Two-Tone
Single Stripe
(Standard)

Fluorescent Yellow
(Mesh)

Fluorescent Orange
(Mesh)
Bright colors and reflective stripes make workers stand out in high-risk areas and where low-visibility is a concern. Made of polyester fabric, these vests are lightweight and moisture wicking to keep you cool.
ANSI/ISEA 107 rated vests are fluorescent yellow or orange and have 2" wide reflective stripes to meet high-visibility requirements. Class 2 vests meet visibility requirements for workers who are on or near roadways.
Standard vests are a traditional, sleeveless style.
Expandable vests have elastic sides or adjustable side snaps that fit up to two sizes larger.
Mesh vests provide better breathability than solid vests.
Men's Vests—Not ANSI Rated
Material
Construction
Closure Type
Color
Size
Each

Not ANSI

Rated—

No Stripe

(Expandable)

Polyester Fabric
Mesh
Hook and Loop
Fluorescent Orange
One Size
0000000
00000
Size
Chest
Size
S
32"/34"
M
36"/38"
L
40"/42"
XL
44"/46"
2XL
48"/50"
3XL
52"/54"
4XL
56"/58"
5XL
60"/62"
Material
Construction
Closure
Type
Specifications
Met
Color
Choose
a
Size
Each
Polyester Fabric
Mesh
Hook and Loop
ANSI/ISEA 107
Fluorescent Orange
0000000
00000
Polyester Fabric
Mesh
Zipper
ANSI/ISEA 107
Fluorescent Orange
0000000
00000

Two-Tone

Single Stripe

(Standard)

Polyester Fabric
Mesh
Zipper
ANSI/ISEA 107
Fluorescent Orange
0000000
00000