About Shaft Collars
Shaft collars are useful for holding and positioning components on a shaft. They can also serve as mechanical stops and stroke limiters.
Bearing Retaining Jam Nuts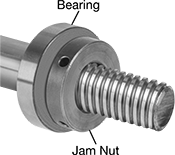 Used in pairs or with another bearing retaining nut, these jam nuts—often called shaft nuts—hold bearings, bushings, pulleys, and gears in place on your threaded shaft or spindle. Threading two nuts tightly against each other makes it harder for vibration to loosen your assembly than if you used only one nut. For the nut closer to the bearing, position the stepped face towards the bearing. These jam nuts have holes on the side, so you can tighten and loosen them with a pin spanner wrench. Made of carbon steel, they're strong and wear resistant. All meet DIN 1816, an international standard for bearing locknut dimensions.
For technical drawings and 3-D models, click on a part number.
Size

Pitch,


mm
Spacing

OD,


mm

Wd.,


mm
Specifications
Met
Each

Carbon Steel

Stepped Face

M68

1.5
Extra Fine

100
14
DIN 1816
0000000
0000000