Jancy
Magnetic-Base

Drills for

Hollow-Core

Cutters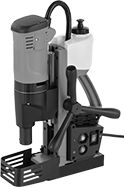 A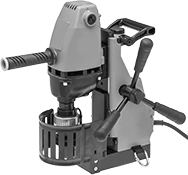 B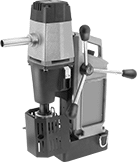 C
These drills work with hollow-core cutters to cut only on the periphery of the hole and produce a solid slug. This allows for a faster and easier cut than drilling with standard drill bits. Also known as magnetic core drilling machines.
They have a feed handle that mounts on the left or right side of the drill. The electromagnetic base attaches to flat ferrous surfaces (such as steel and cast iron).These drills also have a valve to adjust coolant flow. Holding force (also called drill-point breakaway) is calculated against a 1" thick steel plate.
Chucks and adapters (sold separately) allow these models to accept standard drill bits.
For

Max.


Cutter


Dia.

For Cutter
Shank
Size

Max.


Cutting


Dp.

Spindle
Travel

Max.




No-Load




Speed,

rpm

No.


of
Speeds

Current,


A
Holding


Force,




lbs.

For

Min.


Surface


Thick.

Coolant
Included

Lg.

Wd.

Ht.

Wt.,




lbs.

Manufacturer
Model


No.

Each

120V AC

A
1

3/8

"

3/4

"
2"
5

11/16

"
590
1
9.5
2,810

1/2

"
No
10

1/4

"
3

1/2

"
19

3/4

"
25.8
JME Holemaker III
0000000
000000000
B
1

1/2

"

3/4

"
2"
2

9/16

"
480
1
9.4
650

3/8

"
No
13

5/8

"
7

7/8

"
17

5/8

"
32
JHM USA101
0000000
00000000
C
2

9/16

"

3/4

"
2"
5

11/16

"
520
2
12.6
3,080

1/2

"
No
20

1/4

"
9

7/8

"
23

5/8

"
35.5
JCM 256 U
0000000
00000000
| | | | |
| --- | --- | --- | --- |
| 1 gal. Cutting, Tapping, and Threading Coolant for Styles B and C | 0000000 | Each | 000000 |
| 1.6 fl. oz. Cutting, Tapping, and Threading Coolant for Styles B and C | 0000000 | Each | 0000 |
| 1/2" Chuck and Adapter for Jancy Magnetic-Base Drills JHM USA101 | 0000000 | Each | 000000 |
| 5/8" Chuck and Adapter for Jancy Magnetic-Base Drills JCM 256 U | 0000000 | Each | 000000 |
Chuck and Adapter for Jancy
Magnetic-Base

Drills