Sets of Parallels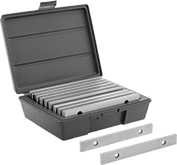 Sets include multiple sizes of matched pairs that are precision ground for tight tolerances on the top and bottom edges. Place a parallel against each vise jaw and rest your workpiece on top to raise it within the vise and allow more clearance for cutting tools.
No.


of
Pairs

Lg.,


mm

Thick.

Ht.

Parallel


Tolerance,


mm
Material
Container
Type
Each
20
100
2 mm
5 mm, 10 mm, 15 mm, 20 mm

6 mm, 11 mm, 16 mm, 21 mm

7 mm, 12 mm, 17 mm, 22 mm

8 mm, 13 mm, 18 mm, 23 mm

9 mm, 14 mm, 19 mm, 24 mm

0.01
Steel
Wood Stand
0000000
0000000
Lathe Chuck Jaw Nuts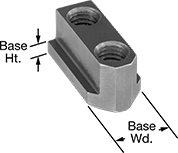 Secure jaws to a CNC lathe chuck with industry standard 1.5 mm × 60° serrations or wider 3 mm × 60° serrations.
Jaw nuts with M6, M8, M10, M12, M16, and M20 threads fit most chucks made by Kitagawa, LMC, Samchully, Seoam, Auto Strong, and other brands.
Jaw nuts with inch and M14 threads fit most chucks made by Matsumoto.
For technical drawings and 3-D models, click on a part number.
Jaw Nuts with Metric Threads
For Lathe
Chuck


Dia.

For
Slot


Wd.

Size

Pitch,


mm

Ht.

Lg.

Wd.

Overall


Ht.

For
Serration
Size
Mounting
Hole


Ctr.-to-Ctr.

Material
Each
4"
0.315"
M6

1

11/64

"

61/64

"

29/64

"

17/32

"
1.5 mm × 60°
0.591"
Steel
0000000
000000
5"
0.392"
M8

1.25

7/32

"
1

11/64

"

35/64

"

39/64

"
1.5 mm × 60°
0.713"
Steel
0000000
00000
6"
0.472"
M10

1.5

19/64

"
1

13/32

"

11/16

"

23/32

"
1.5 mm × 60°
0.787"
Steel
0000000
00000
8"
0.551"
M12

1.75

11/32

"
1

27/32

"

13/16

"

13/16

"
1.5 mm × 60°
0.984"
Steel
0000000
00000
10"
0.63"
M12

1.75

11/32

"
1

63/64

"

7/8

"

27/32

"
1.5 mm × 60°
1.181"
Steel
0000000
00000
12"
0.705"
M14

2

17/32

"
2

3/16

"
1

1/8

"
1

11/64

"
1.5 mm × 60°
1.26"
Steel
0000000
00000
12"
0.827"
M16

2

29/64

"
2

9/16

"
1

5/32

"
1

3/32

"
1.5 mm × 60°
1.181"
Steel
0000000
00000
15"
0.866"
M20

2.5

21/32

"
3

5/32

"
1

5/16

"
1

51/64

"
1.5 mm × 60°
1.693"
Steel
0000000
00000
21", 24"
0.982"
M20

2.5

11/16

"
3

59/64

"
1

7/16

"
2

1/16

"
3 mm × 60°
2.36"
Steel
0000000
00000