How to

Determine Feet of Head
Circulation Pumps for Fuel and Flammable Liquid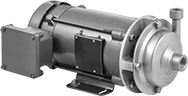 Pump fuel and flammable liquids, such as isopropyl alcohol and xylene. These pumps have an explosion-proof motor that is rated for environments where hazardous material is present. Maximum temperature is 250° F or the boiling point of the liquid being pumped, whichever is lower. The motor is totally enclosed fan-cooled (TEFC) for use in dusty, dirty, and damp environments. Pumps are gravity fed and require an elevated liquid source. Do not run dry or use with solids.
Note: If flow control is needed, place valves or reducers on the discharge side; never restrict the inlet of a pump with a valve or reducer.
For technical drawings and 3-D models, click on a part number.
With Thermal Overload Protection
Max.

Flow


Rate,


gpm

@ 10




ft.

of
Head

@ 20




ft.

of
Head

@ 40




ft.

of
Head

@ 60

ft.

of


Head,


gpm

Max.




ft.

of
Head

Max.




Pressure,


psi

Max.




Viscosity,


cP
hp

Current,


A
Intake


(Female, NPT)

Discharge


(Female, NPT)

Lg.

Wd.

Ht.

Each
Each

120/208-240V

AC,

Single

Phase—

Hardwire

25
31
25
13
1
62
150
264

1/2

7.4/3.7

3/4

1/2

15

5/8

"
10

7/8

"
7

1/2

"
0000000
000000000
00000000
0000000

208-240/460V

AC,

Three

Phase—

Hardwire

25
31
25
13
1
62
150
264

1/2

2.4-2.2/1.1

3/4

1/2

15

5/8

"
10

7/8

"
7

1/2

"
0000000
00000000
00000000
000000
100
__
78
48
10
64
150
264
1
2.8/1.4
1

1/2

1

15

1/4

"
10

7/8

"
8

1/2

"
0000000
00000000
00000000
000000
Without Thermal Overload Protection
Max.

Flow


Rate,


gpm

@ 20




ft.

of
Head

@ 30




ft.

of
Head

@ 40




ft.

of
Head

@ 60

ft.

of


Head,


gpm

Max.




ft.

of
Head

Max.




Pressure,


psi

Max.




Viscosity,


cP
hp

Current,


A
Intake


(Female, NPT)

Discharge


(Female, NPT)

Lg.

Wd.

Ht.

Each
Each

120/208-240V

AC,

Single

Phase—

Hardwire

15
__
10
4
__
46
150
264

1/3

4.8/2.4

3/4

1/2

15

1/2

"
10

7/8

"
7

1/2

"
0000000
000000000
00000000
0000000
100
78
64
48
10
64
150
264
1
12/6
1

1/2

1

17

1/4

"
10

7/8

"
8

1/2

"
0000000
00000000
00000000
000000

208-240/460V

AC,

Three

Phase—

Hardwire

115
__
100
90
60
81
150
264
1

1/2

5-4.6/2.3
1

1/2

1

16

3/8

"
11

7/8

"
8

1/2

"
0000000
00000000
00000000
000000
125
114
98
78
18
69
150
264
2
5.7-5.4/2.7
2

1

1/2

17

1/8

"
11

7/8

"
8

1/2

"
0000000
00000000
00000000
000000
140
__
__
120
47
75
150
264
3
8.1-7.6/3.8
2

1

1/2

17

1/8

"
11

7/8

"
8

1/2

"
0000000
00000000
00000000
000000