Heat-Protection

Shop Aprons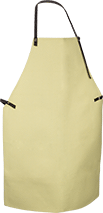 Made of Kevlar aramid, these aprons protect against incidental contact with hot surfaces. They have an adjustable strap at the neck and waist; each strap snaps onto the apron on one side, allowing for quick removal.
Welding Aprons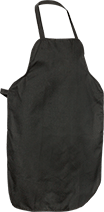 Protect your torso and thighs when welding.
Carbon/aramid blend protects against radiant heat, flames, and welding sparks, while providing better breathability than leather. It is stitched with Nomex threads for added durability. These aprons have an adjustable waist strap with a buckle for a quick release.
Material

Lg.

Wd.

Closure
Type
Features
Color
Size
Each
Carbon/Aramid Fabric Blend
36"
24"
Buckle
Adjustable Waist Strap
Black
One Size
0000000
000000
Heat-Reflective

Aluminized Aprons

Often used in steel mills and glass plants, aluminized clothing reflects radiant heat and protects against sparks. These aprons have no pockets so they won't trap hot particles. They have adjustable neck and waist straps to modify the fit. The straps snap on and off so you can remove them quickly.
Kevlar aramid/fiberglass blend combines good heat resistance with excellent abrasion and cut resistance, in addition to offering protection against molten metal splashes.
PBI/Kevlar aramid blend is lighter than other Kevlar blends. It provides excellent heat and abrasion resistance without weighing you down.
Carbon/Kevlar aramid blend is a heavyweight fabric that lasts longer than other Kevlar blends. It holds up in higher temperatures than other materials while providing excellent abrasion and cut resistance. It provides protection against molten metal splashes.
Lg.

Wd.

Closure
Type
Features
Color
Size
Each

Kevlar

Aramid/Fiberglass

Fabric Blend

30"
24"
Snaps
Adjustable Neck Strap, Adjustable Waist Strap
Silver
XS
0000000
000000
39"
24"
Snaps
Adjustable Neck Strap, Adjustable Waist Strap
Silver
M
000000
00000
42"
24"
Snaps
Adjustable Neck Strap, Adjustable Waist Strap
Silver
L
0000000
00000
48"
24"
Snaps
Adjustable Neck Strap, Adjustable Waist Strap
Silver
XL
0000000
00000

PBI/Kevlar

Aramid Fabric Blend

39"
24"
Snaps
Adjustable Neck Strap, Adjustable Waist Strap
Silver
One Size
000000
000000

Carbon/Kevlar

Aramid Fabric Blend

39"
24"
Snaps
Adjustable Neck Strap, Adjustable Waist Strap
Silver
One Size
000000
000000